With the KaiNexus update we released in March, you may remember that we introduced the Incident Add-On. Incidents are either safety or product issues that occur during the day-to-day operations of your business. Whether you're capturing them to do root cause analysis or are doing a formal CAPA system as part of your ISO9000, Incidents in KaiNexus offer a way to capture these events so that they're managed in the same place you'll use to improve the process to prevent recurrence.
I've briefly described the Incident Add-On before, but we've had a lot of interest in the feature lately, so I thought it would be a good idea to go more in depth.
(To take advantage of the Incident Add-On, reach out to your customer experience lead).
Getting Started
Incidents will have completely different templates, permissions, viewing permissions and notification preferences than your improvement work in KaiNexus. Your system will look different when this Add-On is enabled:
An "Incidents" option will be added to the left navigation bar. Clicking there will open the Incidents page - a list of your Incidents.
Projects will have an "Incidents" tab added. People participating in a Project can add Incidents to the Project from there.
"Incident" permissions will be added to the Roles screen.
There will be a new user status called "Incident Only."
What is an Incident Only user?
Many organizations want every person to be able to capture Incidents in KaiNexus, but those people haven't all necessarily begun to participate in the organization's continuous improvement efforts. So, we created an "incident only" user.
Incident Only users can log into the system like any Active user, but they can only submit Incidents and see those Incidents in which they're participating. Incident Only users are different in that:
Logging in takes an Incident Only user directly to the Incidents page.
They have no left navigation bar. That means that they cannot access the Improvements, Projects, Tasks, Charts, or Reports sections. They can only work with the Incidents page.
They can only be the Reporter or a Follower of an Incident.
They can only edit comments, files, and links on an Incident.
What's new with Incidents?
We intentionally designed Incidents to be very similar to Improvements and Projects to minimize the learning curve for people familiar with KaiNexus. You'll notice that they have the same look and feel, with the same statuses and the same tabs. You can export them either as a PDF or as an Excel spreadsheet, transfer them to a new Location, notify people of them, copy them, and even convert them. You can filter and export a list of Incidents or look at your list in the List View or Kanban View.
So what's different?
Incidents' Resolutions do not have "no change" options.


The person who submitted the Incident is called its Reporter.


You can specify a time at which the Incident occurred.
What's the date & time field?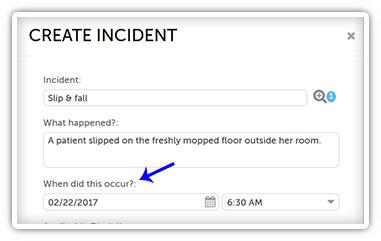 It's critical when capturing an Incident to note the exact day and time at which it occurred. You'll notice that we've expanded the date feature on Incidents in order to make this possible.
The field on the left is a date field. You can choose the right date from the calendar or enter it yourself.
The field on the right is a time field. You can type in the exact time or select a time in 30-minute increments from the drop-down menu.
Incidents are an easy way of grouping Incidents and keeping everybody in the loop. How have you been monitoring incidents in your organization? Leave a comment below and tell us about it!