Valentine's Day is celebrated all over the world, and many of us might wonder where this holiday originated. Well - it happens to date all the way back to the 5th century! It was then that the Roman Pope Gelasius officially declared the date of February 14th "St. Valentine's Day." Although back then, St. Valentine's Day wasn't celebrated with flowers and Hallmark cards. It wasn't until the year 1400 the holiday became associated with love and romance!
Today, Valentine's Day is a nice reminder to tell the people we care about how much we love them. In the spirit of Valentine's Day, we wanted to share five things that we love about KaiNexus!


Our
KaiNexus

Mission

"Our mission at KaiNexus is to use our technology and experience to foster and help spread continuous improvement. During the early stages of KaiNexus, our team put together a set of beliefs to capture the core values of KaiNexus. We believe that in order to successfully help others with continuous improvement, we must first practice and embody the beliefs of KaiNexus each and every day. With software that provides unprecedented visibility and standardization, we are committed to helping leading companies create a sustainable culture of continuous improvement. We believe that in our small way, we are going to make the world a better place."

As KaiNexus continues to grow, our mission helps to guide us forward. We love that here at KaiNexus we let our behaviors define our successes and failures. We don't just talk the talk, we walk the walk.


KaiNexicon
KaiNexicon is BACK this year! After a two-year hiatus, KaiNexicon is back this May, hosted in Austin, TX! KaiNexicon gives our customers the chance to meet other people who are passionate about improvement - and who use KaiNexus to do it. You are guaranteed to learn how to do things you didn't even know were possible with the platform and come away with tons of ideas for the future. We hope to see you there!
Our Customers
One of the most interesting things about working at KaiNexus is the variety of organizations that use KaiNexus. We have the privilege of learning about their work, their teams, and the impact continuous improvement has on their world. They are passionate about Continuous Improvement - and we are passionate about helping them spread Continuous Improvement. That's why we find it critical to help them get their users excited about KaiNexus! From making custom videos and handouts to planning email campaigns for your frontline users, we love partnering with them to bring more people into their improvement journey. Check out more about our customers here!


Our KaiNexus Team
If you asked any person at KaiNexus why they love working here, they would undoubtedly say that it's because of their coworkers. Our colleagues are our friends, and these relationships improve all of the work we do here.
There's no denying working from home can make feeling connected with your team a bit tough. But even in a virtual world, we have continued to make team-building a priority. We're excited about getting back into an office together soon, but between our annual strategy meetings, company-wide book clubs, and one-on-ones just to chat with our peers - our connectedness can be felt daily.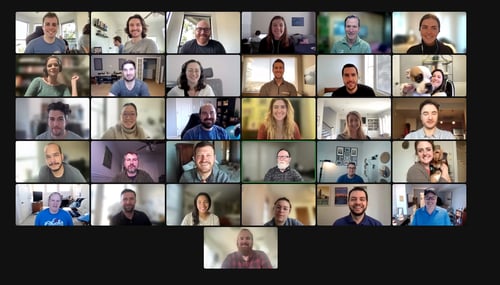 Ofie
Last but not least, our newest addition to the KaiNexus team - our mascot Ofie, created by dear friend and former KaiNexian Bri Hudock. You'll be seeing more of our beloved mascot throughout the app, support site, etc. Ofie bring us all a lot of joy and is a special part of the KaiNexus team!