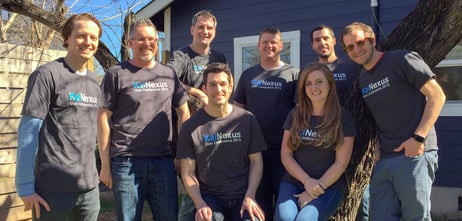 I don't think there's ever a time for improvement more obvious than when you've taken on a big project at work for the first time with zero experience in that area. Quite frankly, that was me, trying to organize last year's KaiNexus User Conference in Austin, TX. I had a couple of awesome contacts who gave me the basics, a team that was willing to pitch in with the legwork and brainstorm ideas, and my dear old friend Google. The rest was accomplished through sheer willpower.
I daresay that last year's conference was a smashing success, evidenced by the fact that most of the people who came last year are coming to our second annual conference in a few weeks - plus 30% more. It was our presenters that really made the conference worth coming to, though the rest of it turned out well too. But in order to have a conference to present at, it took that sheer willpower. And while the team and I did a great job, there is no question we could have done better.
What I like - no, LOVE - about my job is that when I mess something up, no one is looking to point fingers. Everyone is concerned about what can be done better next time. This, my friends, is a true culture of continuous improvement. In the moment, we buckle down and do what we need to do to make the event as seamless as possible for attendees. But even in the midst of a busy, exciting conference, the wheels are turning for what to do better next year. Before the event had even ended, we'd started submitting opportunities for improvement into KaiNexus from our phones. It was so quick and easy, it looked like we were just firing off an email.
After the conference, our whole team got together and discussed things that could be better. We'd collected premeditated notecards from attendees asking what they thought could be improved and started with those, moving onto the behind-the-scenes aspects of the conference later. All in all, we came up with 72 improvements. Some of them include:
Reaching out ahead of time to see if anyone had any special needs we should accommodate (a lactation room, a fridge for medication, allergies, etc).





Sharing the contact information of everyone with the attendees afterward so that they can connect to continue conversations.





Provide some hands-on learning time with our tech team and new features.





Split our checklist into segments instead of having one huge one (To Print, To Buy, To Bring, Setup, Takedown).





Plug in the presenting computer.





Remember to take a group picture.





Put the panelists on a platform.





Dedicate one person to making sure each person is ready before their presentation and knows where to go afterward.
"That's too much to keep track of," you're probably thinking. "72 improvements from one conference?" My friends, that's the beauty of KaiNexus. We submitted those ideas on the fly from our phones, manually added the handwritten ideas from the attendees, and continued to add ideas over the course of the next year. Then we assigned them to the right person, using due dates and tasks to make sure none of them dropped off the radar. At this point, we've implemented about 80% of them, and are currently working on a few with the last minute conference details.
Those of you that are coming to our conference in a few weeks - let me know how we did! And when we ask you for feedback, PLEASE tell us. Clearly, we listen, and I'd love to get that number of improvements up to 100 this year.