You've probably noticed by now, but we released a lot of cool updates to KaiNexus a couple of weeks ago. Here are the full release notes, if you want to take a peek - or keep reading for an overview of all the big stuff.
Multiplication & Division with Calculated Series in Charts
We have added multiplication and division operator options for calculated series in charts. More options means more ways for you to use your data and get the results and reporting that you need. #math
Set Default View Type on Template Layout
You can now set the default view type (Detail, List, Tree, Kanban, Gantt), on the Template layout for all nested item lists. Continue to help set the standard and make it easier for your organization with view types and column options for List & Tree view that helps visualize the information your users need to see. Work with your Customer Experience lead to get these implemented.
Cost Avoidance
The new Cost Avoidance impact type will allow you to track the impact of avoiding future costs. This provides greater visibility into the source of financial impact by separating Cost Avoidance from Cost Savings in your Reports. Work with your Customer Experience Lead to get this new Impact Type added to your Templates.
Report Snapshot Advanced Filter
We've added the Advanced filter option in the Snapshot of the Reports section. This allows you to overlay the entire Reporting section to filter all your Reports the same way.
Impact Over Time
Look out - we have a new Report in KaiNexus! With the new Impact Over Time Report, you can see trends while reporting on the impact of improvement over time. For Advanced ROI users you will also be able to report on forecasted versus actual impact and see the difference between when the improvement was completed and when the impact was realized. This will help you visualize your organization's performance versus plan. For those who currently capture forecast and target as number fields on a template in KaiNexus, we definitely encourage you to reach out to your Customer Experience lead about how the Advanced ROI module can help you better report out on these values.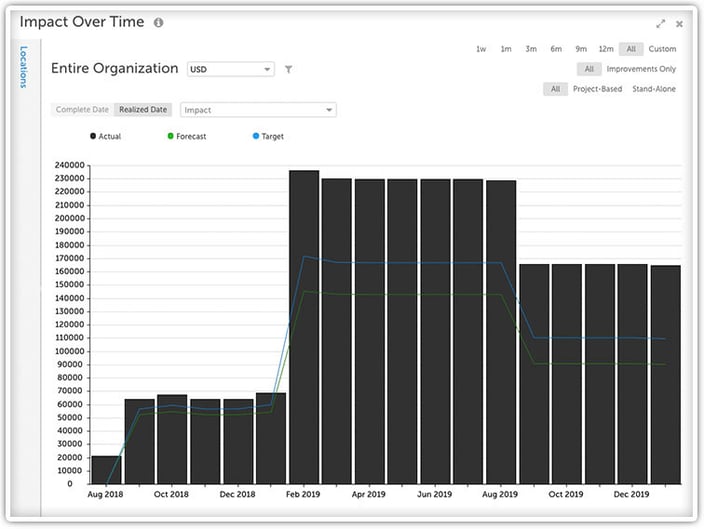 Workflow Permissions Unification & Ability to Request
For all of our Quality Administrators out there, we have unified workflow permissions on Roles in KaiNexus. We have added more granularity to Improvement & Incident permission options including the ability to now Request users within certain locations to be responsible for working on an item of these workflow types. For example if you want a user to be able to Assign work within their location but only Request work outside of their location, you now have the ability to do so. You'll also notice more permission options on Projects and Charts as well as an entirely new section of permissions for Tasks. Take advantage of the updated tooltips for each permission to get further context as to what the permission allows you to do, if the permission grants any other permissions and who typically gets this permission.
Make sure to check out the full 2.3.2 release notes on our support site at support.kainexus.com. If you have any questions or need assistance with configuration, be sure to reach out to your CE lead. Until Kai-next time, this has been your Customer Enablement Manager, Ryan Rippey, keep improving everyone!