We understand your time is valuable. With that in mind, the Customer Experience team is constantly improving the onboarding process to get you up and running in KaiNexus as soon as possible without cutting corners.
Whether your company is new to KaiNexus or you're planning to expand the platform to a new area of your business, a successful onboarding consists of five essential pillars. The quicker we get through these five key areas together, the sooner you will be up and running and spreading improvement within your organization.
The complexity of these pillars varies greatly depending on the size of your organization, scope of your improvement program, and which methodologies or problem-solving tools you have established. Often our customers decide to focus on the process or processes that are most important and slowly introduce other tools in the platform when appropriate.
We don't need to "boil the ocean" overnight. Instead, we can introduce a stream which will eventually pool into an ocean.
A typical onboarding in KaiNexus takes anywhere from two weeks to three months. Where you land in this time frame depends a great deal on how quickly we can get through each of these pillars. I'll explain what each of these five pillars consists of, as well as some prep work you can do to help get them completed faster. With a little prep work, we can hit the ground running when your time comes for onboarding!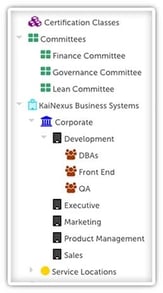 Network
The Network is the backbone of KaiNexus. Here, we establish the hierarchy of your organization and lay down the framework for reporting and collaboration in the system. Using the Network, you can filter down to specific locations to see that location's user engagement, improvement activity, and the impact or change that resulting from their improvement efforts. You can also use the Network to filter down cards on a board or filter the entire board to a specific location or group of locations. The Network is also used to get everyone at a specific location engaged in different initiatives you are tracking and collaborating on in KaiNexus.
In the Network, we don't need to decide who will be managing each location...that will come later. Rather, we want to concentrate on the actual layout of your organization.



Templates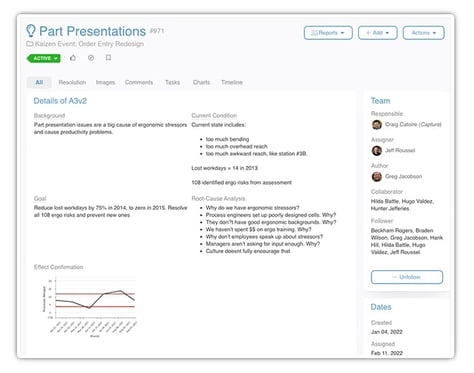 Templates drive the information that you will have your users enter into KaiNexus when submitting a new improvement as well as what information is entered throughout the life cycle of the improvement as you progress to completion. There is no limit to the number of templates you can use.
Templates consist of a number of different input fields. We can create larger text areas, smaller text fields, number fields, or pre-defined drop-down selections called attributes in KaiNexus.
If your organization currently engages in particular methodologies or problem-solving tools such as A3, PDCA, DMAIC, 5S, etc, we can take the documents you currently use to gather and track that information and convert them into a KaiNexus template. Starting with tools that your employees are used to is a great way to go!
Having the existing documentation for your current processes handy when you start onboarding will help greatly with your Template development.


Roles
Roles define the level of access your users have in KaiNexus. You may want some of your employees to only see items within their network location. Other employees, likely in some kind of managerial role, need full access to all locations and the ability to assign people to particular improvement efforts.
We understand that you likely do not yet know all the functionality of KaiNexus, which makes the specifics of a role hard to define. A good starting point for roles is to identify the different types of users you will have in the system. We can then start to discuss their particular use case, and what level of access those users will require.
An example of this would be
Executive: full visibility into the improvement efforts happening at all locations.
Process Improvement Team: full visibility at all locations, ability to approve new improvements and assign responsible users, edit all improvements, add new users
Department Leader: full visibility within their location, can approve and assign responsible users within their location, can escalate to the parent location
Team Member: can only see records they are a team member on, can submit new improvement ideas, require approval from a manager to proceed with the improvement
Putting some thought into your use case and the different types of users that will be using the platform will help you develop your roles with your onboarding consultant.


Boards
KaiNexus uses boards to display the information in the platform in a meaningful way. We typically like to develop a board for each of your roles, displaying information that is relevant for their use case. Users can have access to any number of boards in the platform. We can also define what board your different roles will land on when they first log in to KaiNexus. For example, an executive user is likely going to land on a board that looks much different than a team member.
A board consists of a series of "cards". Cards can contain improvements, projects, reports, charts, user lists, or free text. Each card can be filtered down using the robust filtering system in the platform.
A good starting point for developing your boards is to define what information is important for your different use cases (roles). We can then take that information and begin to develop the different visuals your users will see.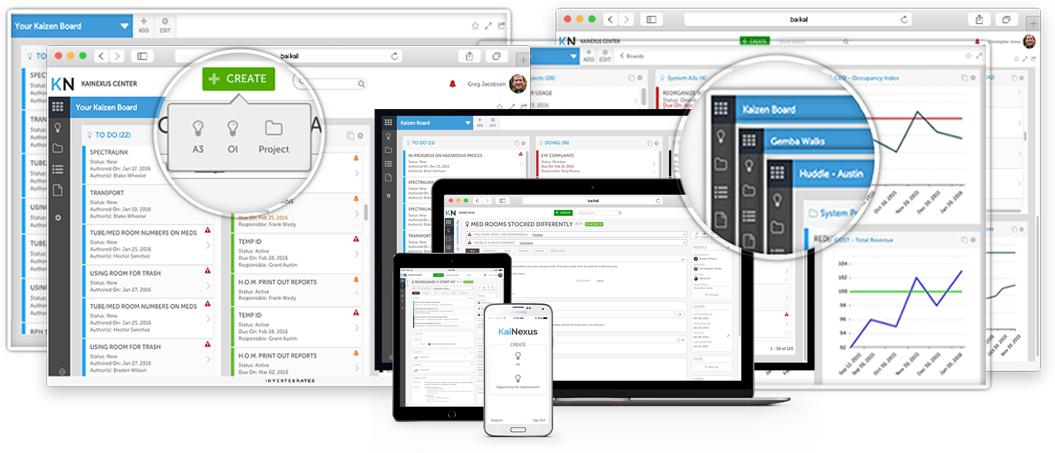 User/Data Import
Your data is important. Often times one of the largest pain points to adopting a new software platform is the potential loss of the historic data you have spent years collecting. With the help of your onboarding consultant, you have the ability to import your data into KaiNexus! For any data import, the first step getting all of your records in one centralized document. Most platforms have the ability to export to an Excel or CSV file. If you can get the data into a spreadsheet, we can import that data into KaiNexus!
We also have the ability to import users into KaiNexus. No one wants to sit and create 500 different user accounts. With the help of our user import spreadsheet, we can create all your user accounts in a single import! We typically import your users under the "setup" status so that they will not receive any communication from the platform, and will only be able to login to KaiNexus once you deem the time is right and transition their account to active status.
Importing a user does not require much. All we will need is an email address, first name, last name, role, and network location. You likely do not know the Role or exactly which Network Location your users will be part of, but centralizing a list of names and email addresses for your KaiNexus users will be a great start to prepare for your user import.