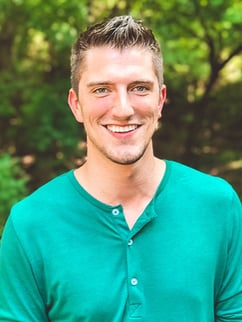 Hi there. I'm Ryan Rippey and I am a Customer Enablement Manager here at KaiNexus. For anyone who has gone through our recently released KaiNexus Basics and Admin 101 video series, my voice should sound very familiar to you.
People always ask me, "what does customer enablement mean?"
As a KaiNexus Customer Enablement Manager, my two areas of focus includes enablement and training.
Training: showing you how to use the system

Enablement: helping you understand the terminology and functionality of the system so that you can reach your maximum potential with whatever it is you are setting out to accomplish with KaiNexus.


The concept of reaching one's full potential has been a passion of mine throughout my young career. I wake up every morning thinking about how we can improve our training process and what other resources I can develop and provide to enable KaiNexus users and help drive adoption. One of the first projects I was tasked with shortly after joining KaiNexus was to develop a video series covering KaiNexus Basics 101 and KaiNexus Admin 101, which we have now introduced to new customers before onboarding.
When a new company joins the KaiNexus tribe, we start our journey with a kickoff/welcome call that outlines what your KaiNexus implementation plan will look like over the next 6 months. At the end of the call, you'll receive your login credentials to KaiNexus.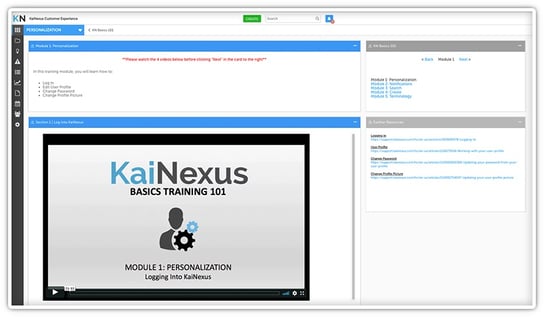 When logging in to the system for the first time you'll be taken through a general KaiNexus Basics 101 and Admin 101 training video series. At the end of each training course there is a Certification task that, once completed successfully, you will receive your KaiNexus Basics 101 and KaiNexus Admin 101 Certification badges.
What we've seen since rolling out this video series is that introducing enablement early in the process helps increase your KaiNexus IQ so that once you get into onboarding, you'll have all the knowledge you need to have productive implementation sessions.
Once you have gone through the training videos we schedule an Enablement call where we will review the material covered, answer any burning questions, and ultimately get you prepped for your first onboarding session.
After onboarding, we'll schedule a strategy session to discuss how we'll tackle training users in your organization. We'll put together a roll-out plan, determine the number of trainings, audience, topics covered, etc. Each KaiNexus training is unique to your organization, developed around your specific process and use case so things really resonate with the people in your organization who will be using the system every day.
Training and enablement with KaiNexus goes beyond the resources we provide for our customers. For all the live trainings, support docs, webinars and videos we create for our customers, we also have training and enablement internally as well. For every new release, we have an internal enablement session where everyone in the company joins in to get training on the new features within that release.
As one of the newest members to the KaiNexus team, in the newest division of Customer Experience, I am extremely excited to grow in this role and see what training and enablement resources will be available to our customers in the next year.