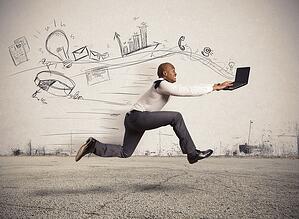 Wikipedia's definition of employee engagement is not two words. It begins, "Employee engagement is an emergent property of the relationship between an organization and its employees." Got that? No? Me neither. The next part is a bit more helpful, "An 'engaged employee' is one who is fully absorbed by and enthusiastic about their work and so takes positive action to further the organization's reputation and interests." Ok, that makes some sense, but I have an even simpler employee engagement definition. Employee engagement hinges on two words: Discretionary Effort.
What is Discretionary Effort?
Every employee in your company has certain job responsibilities. If they stop executing those responsibilities their manager will coach, reprimand, and eventually fire them. Everyone knows this, so most employees work hard enough not to get fired. But is that all you want from your employees? That they perform the duties of their job and other expressly defined requests, nothing more? Not likely. Your best employees are the ones who expend effort beyond what is strictly required. Employee engagement is about that extra lift you get with just a bit more energy.
Here are a few examples:
| | | |
| --- | --- | --- |
| Situation | Disengaged Response | Engaged Response |
| A customer has an unusual, but doable request. | "I'm sorry, we don't do that." | "Interesting idea, let me see if we can figure something out." |
| A patch of ice has formed on the walk way. | Someone in maintenance needs to deal with that. | I'd better make sure maintenance knows about this and grab a warning marker in the meantime. |
| There's a grammatical error on your website. | "Ha!" | I'll send a note to the marketing team so they can fix it. |
| A service contract is up for renewal. | The current vendor is good enough, I'll just renew. | The market has change since we last signed up, I'll look to see if we can get a lower price or faster service. |
| A co-worker returns to a pile of assignments after coming down with the flu. | It's tough to be Sally. | "Sally, how can I help you get caught up?" |
Engagement is Not Morale or Satisfaction
Think about the multitude of opportunities your employees have every day to choose to do a more than the minimum to solve problems or capitalize on opportunities for improvement. You can identify your engaged employees by their discretionary effort and the smiles on the faces of people around them.
Employee engagement is not just a matter of morale. Happy employees can do just enough not to get fired. A disengaged employee may be satisfied with his job, enjoy the benefits, show up every single day and preform his tasks adequately. Is that good enough?
If not, consider investing in employee engagement programs that help get employees emotionally involved in company success. Make expending discretionary effort part of your organization's culture of improvement and reward extra energy as often as possible. It'll be worth your extra effort.
Learn how to get your employeed to expend discretionary effort in our free eBook:
The Savvy Leader's Guide to Employee Engagement