"Faced with the choice between changing one's mind and proving that there is no need to do so, almost everyone gets busy on the proof."
- John Kenneth Galbraith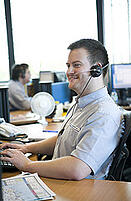 We've written often about the importance of employee engagement and the astonishing lack of it in most companies. Today, we are focused on employee engagement as it relates to developing a company culture that fosters and embraces change. If, as economist John Galbraith more eloqutently stated, people would rather justify staying the same than accept the risk of change, how can leaders excite and engage employees in creating positive change?
Set and Share Transparent Goals
"The bottom line is, when people are crystal clear about the most important priorities of the organization and team they work with, not only are they many times more productive, they discover they have the time they need to have a whole life."
- Stephen Covey
Studies are crystal clear that engaged employees understand the goals of the organization and how their role serves those objectives. Employees with a clear understanding of the organization's strategy and priorities are positioned to make better decisions during their day-to-day activities.
Address the Fear of Failure
"The top salesperson in the organization probably missed more sales than 90% of the sales people on the team, but they also made more calls than the others made."
- Zig Ziglar
It is unlikely that leaders set out to create an environment where the fear of failure is so intense that employees would rather continue to accept mediocre outcomes than risk trying something new, but it is astoundingly common. Employee engagement depends on discretionary effort, something that isn't willingly given when failure is not allowed. Leaders must reassure teams that change and innovation involve risk. Not every new approach will be successful, but every reasonable attempt will be appreciated.


Foster Life/Work Balance
"I worry that business leaders are more interested in material gain than they are in having the patience to build up a strong organization, and a strong organization starts with caring for their people."
- John Wooden
True employee engagement involves an emotional connection to the organization. This connection is earned through demonstrating concern for each team member's well being as a person. Wherever possible, employers should find ways to offer flexibility, personal development and recognition for employees who fully commit.
Act on Employee Ideas
"An organization's ability to learn, and translate that learning into action rapidly, is the ultimate competitive advantage."
- Jack Welch
A great representation of employee disengagement is a dusty, old suggestion box. If you want to kill engagement, simply ask employees for ideas about how to improve the business and then ignore them. Not only is this all too common practice an engagement killer, it's also a waste of an organization's competitive advantage. Your front line employees are closest to the customers, problems and opportunities for improvement in your organization. Don't let their first hand intelligence go to waste.
Cultivate Cross-Functional Collaboration
"Innovation - the heart of the knowledge economy- is fundamentally social."
- Malcolm Gladwell
Engagement is contagious. Employees who are clustered away in silos are less likely to fully understand and become excited by work that is going on in other parts of the company. When people are encouraged and enabled to bridge the silos and work together, innovation accelerates and successes are shared.
These employee engagement ideas are more than programs or an activities. They are principles for creating a culture that accepts change and works together to achieve improvement. Business that execute them well will have an advantage in today's rapidly changing, hyper-competitive business environment.