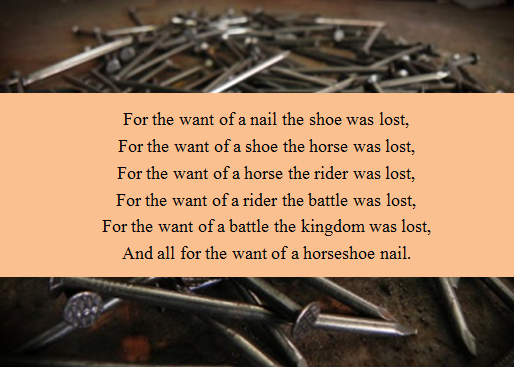 Have you ever heard this parable? It's a classic story about how one seemingly small problem, a missing nail, can have monumental impact - the loss of a kingdom.
Qorvo, one of our customers, uses this analogy in their continuous improvement work throughout the organization. Qorvo (pronounced kor-vo) is a recently merged company, combining TriQuint Semiconductor and RFMD, that produces wafers and semiconductor solutions used primarily in mobile devices, network infrastructure, and defense applications. Qorvo's core technology helps connect the world.
Qorvo began their Lean journey in June of 2013, under the direction of a new VP, Gadi Dvir, who previously worked at Intel.
Dvir uses the nail analogy as a teaching tool to:
Emphasize the kinds of ideas that he wants his staff identifying and sharing
Promote the right attitude for leaders - to look at the opportunities for improvement ("nails") as a vital part of the continuous improvement effort
At Qorvo, people who identify opportunities for improvement are not complaining - they're bringing forward the nails that might just save the kingdom. Dvir recognized that asking people to identify small problems and encouraging leaders to treat them as nails would have a big impact on the organization.
People who identify opportunities for improvement aren't complaining, they're saving the kingdom.
He was right.
Qorvo realized soon after their Lean journey began that they were going to have a difficult time managing all of the "nails" that Dvir was asking people to identify. They began using KaiNexus in September of that same year to solve that problem, and have seen some incredible results from their continuous improvement work, which they call High-Velocity Continuous Process Improvement (HVCPI).
Does It Work?
Let's take a look at their metrics from 2014 so you can get a feel for how successful Dvir's "nail" approach is.
In 2014, Qorvo had:
Almost 2,000 opportunities for improvement, identified by over 300 different employees. That's an average of 6 ideas per person.
As of this post, 91% of those opportunities are completed
93.5% of the completed opportunities resulted in a change
That's pretty awesome, isn't it? What's even cooler to see is the impact of those opportunities for improvement:
755 ideas improved the quality of the organization and its products in some way
216 ideas improved the safety of vendors and employees
893 ideas improved the satisfaction of customers and employees
837 resulted in over $7 million of financial impact
Want to know how to convince your executives to get on board with your continuous improvement efforts?
Show them the results of Qorvo, and convince them that you're ready to lead a team to similar success.
To learn more about Qorvo's journey and results, follow along with us as we spend the next several weeks delving into the details of their story here on our blog. Be sure to subscribe via email or RSS to make sure you don't miss any updates!