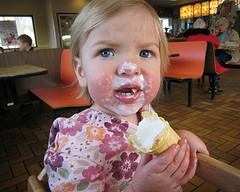 The story in this post is adapted from an original post written by Melissa Sher on her blog Mammalingo.
As with any job, there are pros and cons of working in the restaurant business.
The couple who got engaged at your table, thanks to your excellent ring-hiding technique? Pro.
The excellent tippers who only stayed thirty minutes? Also a pro.
The mom who showed up with three kids under the age of three, though… that's another story - especially when you work at IHOP, aka the "International House of Sticky Fingers." This is the family that most waiters would run from. The table you get if you lost a bet over how long past closing that table last night would camp out.
This is the story of waiters who stand their ground. Of waiters who not only serve that table, but bring so much joy and creativity to the job that the mom of those thirty sticky fingers feels compelled to write a glowing post on her blog about them.
This is the story of Chris, the ultimate engaged employee.
When Melissa Sher and her three little boys went to IHOP on a busy Saturday morning, their waiter Chris embraced the challenge of serving three small children. He could have let them have a boring brunch, but he instead chose to ask the boys to help him carry out their plates when their breakfast was ready. If you have small children, you know what a huge honor Chris bestowed upon them - the boys were so thrilled, they called their dad while they waited for their chance to be waiters to tell him the good news. Chris not only filled their IHOP experience with anticipation and glee, but he also knew enough to stock the boys' plates with tubes of yogurt while he carried the hot, heavy pancake laden ones.
Isn't this the kind of employee you'd want in your business?
I don't know about you, but this is exactly the kind of employee I'd want working in my business, no matter what that business was. Chris exhibited a stellar ability to think outside the box to bring simple joy to his most ornery customer set, making the dining experience delightful for both the family and himself. IHOP needs a way to harness the improvement potential of staff like Chris to make real, lasting improvements.
Continuous improvement software will help.
Chris, and waiters like him, are making a huge difference in their immediate work areas. Customers are happier, and Melissa proves that they're willing to shout it off the rooftops. Imagine the impact ideas like this would have for IHOP if they could be shared with other employees, shifts, and locations! Of course a restaurant can't have every kid running around carrying plates of yogurt, but wouldn't it be cool if Chris and others like him had the ability to share clever ideas for engaging customers and improving the service experience like this with their colleagues? Imagine how much more fun dining out (or shopping, or working) would be, too.
Continuous improvement software can help by connecting all of your employees, regardless of shift and location. Employees can enter ideas into the system on the fly, managers can approve the good ones and work toward finding something to implement for the others. Active notifications then help everyone stay on top of the idea through implementation, and the impact is logged in the system and broadcast throughout the organization to share employees' great ideas.
Your move, IHOP. Take your continuous improvement to the next level by contacting us for help (that goes for the rest of you reading this, too)!
For information about how to engage your employees, check out
this free eBook
!