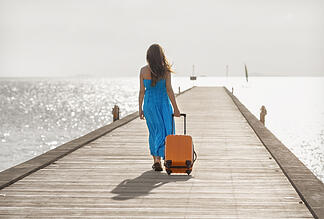 Full Contact is a software company that helps users manage and synchronize all of the many applications that contain contact information. For them, offering paid time off just doesn't cut it, so they offer paid, paid vacations. Every year they actually pay employees $7,500 to go on vacation. There are rules. You actually have to go on vacation, you must disconnect and you can't work. It's a great benefit for employees and an outstanding recruiting tool. (Yes, they are hiring.)
Of course, paid, paid vacation isn't a possibility for all companies, but there are lots of other smart ways of investing in employees.
Give them the best tools for the job – Believe it or not, one of the top reasons employees leave their jobs or become disengaged is that they don't feel like they have the right tools and resources to do their jobs well.
Foster engagement – Employee engagement is one of the cornerstones of business success, yet many companies fail to invest in programs or technology that empower engagement.
Recognize and reward – Employee recognition is a great way to invest in your employees. It does not have to be expensive, but it does require time and resources. Employees crave recognition and are more satisfied and productive when they receive it.
Make room for growth – Your best employees are critical to the day-to-day tasks they preform, but don't let that be an excuse for failing to offer them training and opportunities to explore other roles. It may require investing in extra backup, but it essential for employee development.
Do something unique – Take a page out of Full Contact's playbook. Lots of companies have health care, 401k matching, and paid time off, but few offer paid, paid vacations. It makes Full Contact special. You can give your employees a sense of pride and stand out from the competition by offering a benefit that is unique to your company. Maybe it's music lessons or half a day off every other Friday. Choose something that reflects your culture and values.
When you invest in your employees, you'll be rewarded with reduced turnover, higher productivity, better customer service, and the extra energy that accompanies true engagement.
Free eBook Download - The Savvy Leader's Guide to Employee Engagement