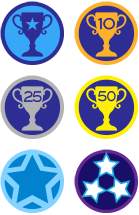 As more and more business operations are supported by technology that is capable of generating data to inform decisions, executive teams are demanding objective, fact-based justification for investment in every area of the organization. Marketers no longer make ad buys based on "gut feeling," PR teams must prove an ROI, and customer service organizations must meet satisfaction metrics. This shift in decision making impacts HR organizations and programs as well. Efforts to improve employee engagement and morale are often given low priority or neglected altogether because they are seen as subjective, difficult to measure, and too far removed from the bottom line.
The good news for leaders trying to argue for an investment in employee recognition software is that there are solid statistics and empirical evidence that doing so can have quantifiable results. We've gathered a few of them for you.
A recent Gallup poll of thousands of employees found that 65 percent claimed to have received no praise or recognition in the past year.
It is unlikely that 65% of employees did nothing praise worthy in the last year. It's more likely that their managers don't have a process or the tools in place to recognize and reward achievement. There is also a significant disconnect between what employees experience and what executive leadership believes is happening.
According to Bersin & Associates research, nearly 80 percent of senior leaders believe employees are recognized at least on a monthly basis, with 43 percent of senior leaders stating employees are recognized weekly or more often.
Yikes. Something is clearly being lost in translation. Employee recognition software is an effective way to bridge the gap between perception and reality. Whether or not an organization has a recognition program, what matters is how employees feel. Many who don't feel recognized simply leave.
Accenture reports that lack of recognition leads to 43% of voluntary employee turnover.
In addition …
Praise and commendation from managers was rated the top motivator for performance by 67% of workers, beating out other non-cash and financial incentives, according to McKinsey.
What's the impact to the bottom line? Turnover is expensive.
According to the U.S. Department of Labor and Statistics, turnover can cost an organization 33% of an employee's total compensation, including both salary and benefits.
Despite this,
Aberdeen found that only 14% of organizations provide mangers with the necessary tools for rewards and recognition.
So clearly, most companies aren't doing a great job of employee recognition. What about those that do?
When companies spend 1% or more of payroll on recognition, 85% see a positive impact on engagement, says the Society for Human Resource Management. Additionally they found that, "Companies with strategic recognition reported a mean employee turnover rate that is 23.4% lower than retention at companies without any recognition program."
What do engagement and retention mean for the bottom line?
Organizations with mature recognition programs are 12 times more likely to have strong business results, Bersin & Associates concluded.
Many of the country's leading research organizations agree. Employee recognition and the tools to support it can combine to form a major competitive advantage for today's employers. A relatively modest investment can yield outstanding returns in terms retention, engagement, and business results.