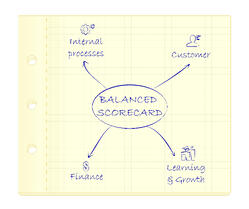 Sometime around the turn of the 20th century, British scientist Lord Kelvin said "I often say that when you can measure what you are speaking about, and express it in numbers, you know something about it; but when you cannot measure it, when you cannot express it in numbers, your knowledge is of a meager and unsatisfactory kind. If you cannot measure it, you cannot improve it."

Dr. Robert Kaplan and Dr. David Norton of Harvard, believed that managers need measurement as much as scientists, so they took this principle and applied it to business. In 1992 they introduced the "Balanced Scorecard" measurement framework in a Harvard Business Review article.
Definition
The Balanced Scorecard is a management framework that combines traditional financial metrics with strategic measures to give managers a more complete view of business performance. The approach rests on the premise that that many business measurement schemes are weighted too heavily toward financial performance and ignore other strategically important, but often more difficult to measure, priorities. The Scorecard is "Balanced" because it takes into account these other non-financial factors as well. The Balanced Scorecard assumes that there is a cause-and-effect link between learning, internal efficiencies, business processes, customers, and financial results.
The Four Perspectives
Kaplan and Norton suggested that business performance should be measured from a number of perspectives in order to generate a holistic view of the health of the business.
Learning and Growth Perspective – Metrics in this perspective answer the question, "Are we developing our intangible assets?" This perspective includes employee engagement and development, product innovation, and the growth of communal knowledge.
Internal Business Process Perspective – From this perspective, the question is, "How well are we managing processes to achieve economies of scale or value chain integration?" Example metrics include defect rates, cycle times, and unit cost.
The Customer Perspective – Here the focus is upon providing value to the customer. Measurements might include customer satisfaction scores, customer churn, customer reported defects, and market share.
The Financial Perspective – Of course financial performance is important as well. Metrics in this area are those that are related to shareholder value.
Strategy Mapping
Strategy Mapping is an important part of the Balanced Scorecard methodology. A Strategy Map places the four perspectives in relation to each other to show how the objectives support each other. The Strategy Map reveals cause and effect by demonstrating that success in one perspective, financial for example, can only be achieved by tangible results in the other perspectives such as customer satisfaction. The Strategy Map therefore reveals what the organization wants to accomplish and how they are going to do it.
Benefits
Companies that use Balanced Scorecards are able to:
Effectively communicate the corporate vision and strategy
Link strategic objectives to performance targets and budgets
Track goals and objectives as they relate to the business strategy
Allocate resources in accordance with the strategy
Manage organizational change
Tools
Visualization is an important part of the Balanced Scorecard approach. Many businesses turn to automated tools, like KaiNexus, to support the effort to create visuals that communicate preformance. The example chart below shows the trend in patient wait times, an important customer perspective metric for medical offices.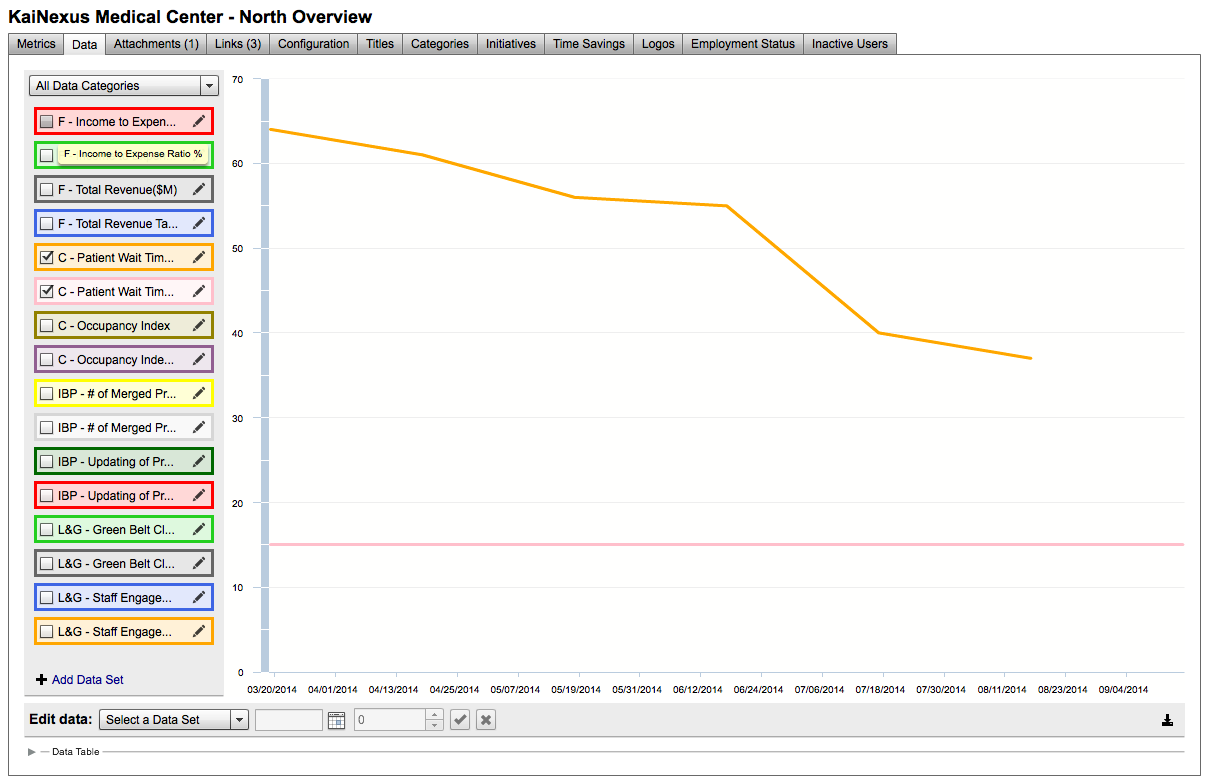 The Balanced Scorecard approach is a straightforward, yet powerful way to gauge performance across key strategic areas of focus. By complimenting financial measures with metrics around less tangible assets, leaders are better able to predict future performance and identify opportunities for improvement within the business. Simple, visual communication tools increase understanding of the business strategy across the organization and better position the business for growth.
Find out how KaiNexus supports the balanced scorecard and run chart approach to improvement!
Want to learn more about doing daily improvement work in KaiNexus? Sign up for our free upcoming webinar!
Daily Management with KaiNexus: From Huddle Boards to
Web-Based Technology