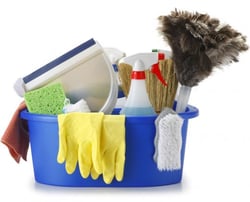 It's that time of year when many of us take some time to clean out a few closets, organize the garage, and clear our home of clutter. It is also the perfect time to put your rapid improvement skills to work and plan a 5S-focused Kaizen event.
What is 5S?
5S is a workplace safety, organization, and cleanliness methodology originally used in manufacturing environments then expanded throughout multiple industries. It is not just about housekeeping, but concentrating on reducing waste, based on maintaining the standards & the discipline required to manage the organization - all achieved by upholding & showing respect for the workplace. The 5 steps (all of which, conveniently, start with an S in both English and Japanese) are:
Sort: Sort out and separate things that are needed in each work are and things that are not. Prioritize things that are used most often or most urgently.
Set in Order: Arrange items that are needed so that they are ready and easy to use. The items you need the most or the fastest should be closest to the point of use. "A place for everything, and everything in its place."
Shine: Clean the workplace and equipment on a regular basis in order to maintain standards
Standardize: Document and communicate the expected state of the workspace... Clearly identify locations for all items so that anyone can find them and return them once the task is completed.
Sustain: Keep to the rules to maintain the standard and continue to improve, overseeing the process and coaching people as needed.

Kicking Off 5S with a Kaizen Event
The initial implementation of 5S is a perfect fit for a Kaizen event for a few reasons:
You can control the scope of your event and determine how much time it will take by deciding which workspaces to tackle.
It is the type of event that doesn't require a lot of specialized knowledge or experience, so everyone can actively participate.
If your team doesn't have a lot of experience with Kaizen events, this is a good way to introduce the approach.
Results are readily observable and quickly obtained.

The Benefits of 5S
After your 5S focused Kaizen event, you will enjoy:
More effective use of space, time, resources
Reduced waste in searching for items or finding a place to put them when they are used
Increased pride in the workplace with a sense of ownership and investment
Improved safety
A good foundation for additional improvement
Employees who are more experienced with Kaizen event based improvement


Many people associate 5S with manufacturing, but I've yet to walk into an office that couldn't stand a good cleaning and better organization. The 5S approach is something almost every workspace can benefit from. Why not use a Kaizen event this Spring to roll it out to yours?