From the Archives!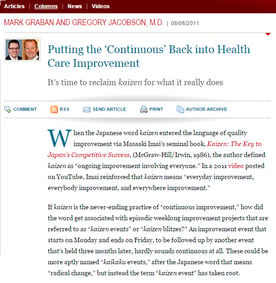 In 2011, an article by our CEO Greg Jacobson and VP of Customer Success Mark Graban was featured in Quality Digest. In it, Greg and Mark talk about how kaizen in health care has commonly come to resemble a crash diet moreso than a long-term lifestyle change. The article goes on to describe the benefits of true kaizen (daily continuous improvement), rather than kaizen events.
When the Japanese word "Kaizen" entered the language of quality improvement via Masaaki Imai's 1986 seminal book Kaizen: The Key to Japan's Competitive Success, the author defined Kaizen to mean "ongoing improvement involving everyone." In a 2011 video posted on YouTube, Mr. Imai reinforced that Kaizen means "everybody improving, everywhere, and every day."

If Kaizen is the never-ending practice of "continuous improvement," how did the word get associated with episodic week-long improvement projects that are referred to as "Kaizen Events" or "Kaizen Blitzes"? An improvement event that starts on Monday and ends on Friday, to be followed up by another event that's held three months later, hardly sounds continuous at all. These could be more aptly named "Kaikaku Events," after the Japanese word that means "radical change," but instead the term "Kaizen Event" has taken root.
About the Authors:
Mark Graban, graduated from Northwestern University in 1995 with a BS in Industrial Engineering and later earned an MS in Mechanical Engineering and an MBA from the Massachusetts Institute of Technology (MIT). He is author of the Shingo award-winning book, Lean Hospitals: Improving Quality, Patient Safety, and Employee Satisfaction. Mark works as a consultant through his firm, Constancy, Inc. and is also the VP of Customer Success for KaiNexus. He was previously a Senior Fellow with the Lean Enterprise Institute and continues as an LEI faculty member. Mark is also the founder of the popular LeanBlog.org and its podcast series.
Gregory Jacobson MD, Co-Founder and CEO of KaiNexus, graduated from Washington University in St Louis in 1997 with a BS in Biology. He attended Baylor College of Medicine from 1997 to 2001. From 2001 to 2004, he completed a residency in Emergency Medicine at Vanderbilt University Medical Center where he then stayed on as faculty. It was his observation and research of operational inefficiencies and unrealized improvement opportunities that resulted in the creation of a rudimentary software tool and, ultimately, the founding of KaiNexus. Jacobson is co-author of "Kaizen: A Method of Process Improvement in the Emergency Department," published in the journal Academic Emergency Medicine.