In July 2015, Mark Jaben had the opportunity to be part of a private permit 16 person, 16 day river trip on the Colorado River through the Grand Canyon. Prior to leaving, KaiNexus' Maggie Millard challenged him, almost tongue in cheek, to return with stories about Lean. Little did either know or expect the lessons on kaizen, leadership, and continuous improvement that would emerge.
It is day 4. I stand with one foot on the sandy beach we have camped on and the other foot in the 50 degree water of the Colorado River. I am passing gear onto a raft as we break camp. Emily, the boatman of this raft, stands on the rear of the craft, calling for the next bag, as she 'rigs to flip' the personal gear assigned to her care for the day. (Never mind the ongoing discussion about referring to women rowers in the Canyon as boatmen. We'll leave that for another day and stick with the traditional usage). It will be the first day of really big rapids, and everyone is a little more focused than previously. Emily is using a multi-layered configuration of straps, so if one strap fails, the others will prevent a total loss of gear in the advent of a flip. Once convinced it will work, she stands back, gazes down on the gear and matter of factly comments, 'every day I use one less strap.'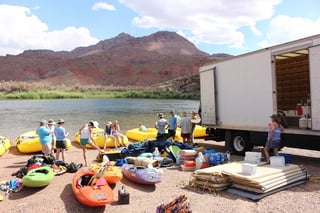 For the past 3 days, she has tied in the same hodge podge of variously sized dry bags, each day sequencing them a bit differently and finally getting to the most effective configuration, each day taking less time and each day using fewer straps. Fact is, there is no way she could have looked at the pile of stuff on the beach on day 1 and diagramed out exactly how it would all best fit.
As a group, we certainly had a shared outcome in mind for the trip - navigate 226 miles of the Colorado River in 16 days from Lees Ferry to Diamond Creek, safely negotiating huge rapids, scorching temperatures, monsoon rains, venomous creatures, avoiding sickness and injury, and doing so well watered and well fed, basking in parts of the canyon only accessible from the river, exploring the cool, side canyons, sleeping under stars so clear, giving a depth to the universe few of us had known. But, as to how to achieve all this, there was no manual, no expert, no consultant, no plan that would guarantee success. We headed in that direction, but each day we had to figure out the next step.
The canyon provided an excellent visual control to measure our effectiveness in breaking camp each morning. It was called the sun - daylight came early, around 5am - along with the call of the canyon wren, its rapid staccato chants slowly descending in an ever slowing rhythm. One could follow the sun's approach on the opposing canyon walls. Once its rays reached the beach, the temperature of the sand shot up precipitously, quickly reaching the 100 plus degree mark we would learn to accommodate in our daily patterns. The faster we could get loaded and on the river with its 50 degree water, the more pleasant our day would be.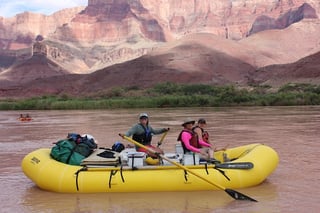 On day 1, everyone had chosen the raft that would carry their personal gear. Each raft also carried some of the communal group gear - coolers, food, kitchen set up, 'groover' (toilet facilities), daily output of waste (personal and other since all waste must be carried out of the canyon). So, there was enough planning to know what would go on each boat, but there was no way to plan how best to stow it all. No way to anticipate the unintended consequences or unexpected results of even the best plan. And as trip leader, there was no way I had the answer for Emily. It took trying different possible options, each day learning what did not work so well, so as to reveal what did.
After a few more days, Emily no longer had to call for the next bag; it was already coming her way. She no longer had to think about what strap to use next. Instead, she could concentrate on the rock layers as we descended through time, be on the lookout for bighorn sheep, prepare for the next rapid, and contemplate what the rest of the day would bring. Indeed, we all could.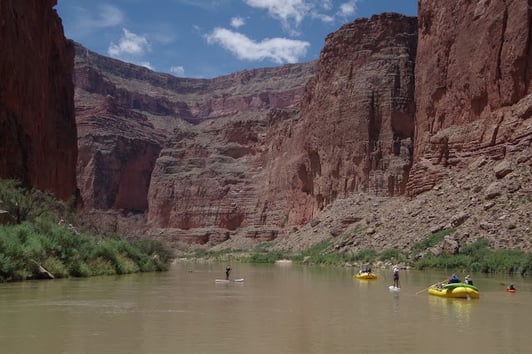 Mark Jaben is a residency trained, board certified Emergency Physician with over 25 years of clinical experience. In addition to supporting hospitals in their efforts to improve their delivery of quality patient care, his particular interests include the application of Lean principles to medical decision making and to individual work. He was included in A Factory of One, by Dan Markovitz, the 2012 Shingo prize winning book on this topic. He has written extensively about what it really takes to engage people in change efforts and has presented internationally on these topics. His experience includes EMR development and implementation, facility design, regional health delivery, and the interface between different hospital departments as well as between different organizations.