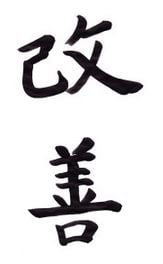 Readers of this blog likely know that the term Kaizen comes from the Japanese words for "good change," and that it is a philosophy closely associated with continuous improvement. Because Kaizen is a new way for leaders and employees to think about work, it can be a challenging concept to fully grasp. We thought it might be helpful to gather some quotes from thought leaders in this area and provide additional resources for learning more about how each of them answers the question, "What is Kaizen?"
Masaaki Imai
Masaaki Imai is a Japanese organizational theorist and management consultant, known for his work on quality management, specifically on Kaizen. He is often credited with bringing the idea of Kaizen to the west. His book, Kaizen: The Key To Japan's Competitive Success, uses more than 100 examples in action and contains 15 corporate case studies. Here are a few of his thoughts on the meaning of Kaizen:
"The starting point for improvement is to recognize the need. This comes from recognition of a problem. If no problem is recognized, there is no recognition of the need for improvement. Complacency is the archenemy of Kaizen."


"Kaizen means to find a better way and revise the current standard. Thus, maintaining and improving the standard becomes the main task of management."


"Welcome problems. The more problems, the better, because we have more Kaizen opportunities. We only need to establish priorities in dealing with problems. When the problem is correctly identified, the project is halfway successful."
Taiichi Ohno
Taiichi Ohno, a Japanese industrial engineer and businessman, is considered to be one of the fathers of the Toyota Production System, which was dubbed "Lean Production" by Jim Womack and his MIT research team. Ohno's book, Toyota Production System: Beyond Large-Scale Production, is a Lean classic. He described the Kaizen mindset this way:
"If you are going to do Kaizen continuously…you've got to assume that things are a mess. Too many people just assume that things are all right the way they are. Aren't you guys convinced that the way you're doing things is the right way? That's no way to get anything done. Kaizen is about changing the way things are. If you assume that things are all right the way they are, you can't do Kaizen. So change something!"
Shigeo Shingo
Shigeo Shingo was considered by many to be the world's leading expert on manufacturing practices and a key figure in the creation of the Toyota Production System. He was the author of many popular business management books including, Kaizen and the Art of Creative Thinking - The Scientific Thinking Mechanism. He described how his Kaizen thinking began.
"It had dawned on me that the occurrence of a defect was the result of some condition or action, and that it would be possible to eliminate defects entirely by pursuing the cause."
"A relentless barrage of 'why's' is the best way to prepare your mind to pierce the clouded veil of thinking caused by the status quo. Use it often."
Norman Bodek
Bodek has traveled to Japan more than 80 times, working with Ohno and Shingo to translate and publish their books in the west. He has written many books of his own on Kaizen and continuous improvement, including All You Gotta Do is Ask. Bodek is also doing a webinar for us on May 14, 2015.
"Today, leaders often talk about lean manufacturing, Six Sigma, and continuous improvement, yet very few companies have found the easy way to get everyone involved in the process. As an example, lots of people go through Kaizen Blitzes - they get a surge of energy, make lots of improvements, and then (just like the bunny rabbit that lost to the tortoise), they stop, admire what they have done, and quickly fall back to their old ways. Like putting up a picture on the wall and saying to themselves "See what I did!" But the big guys, the Toyotas, never stop improving. They are relentless. If you don't wake up soon, they will bury you."
"If the workers can see the problems and the answers, then why can't management? In truth, workers are the real experts in their 24 square feet of space, but we rarely ask them for ideas. Workers don't really feel empowered, even though management often feels they've been empowering their workers for years.
We need a foundation of trust. Managers coach every chance they get. Leaders preach and "encourage" involvement. Companies have recognition programs that try to enhance their workers' self esteem. Managers are trained to communicate more effectively. Organizations send their managers to take classes in time management, communication management, leadership, listening skills, speaking skills, performance planning, valuing diversity, project management, and team building. Some are even sent to "charm school." Still, workers don't feel involved or empowered."
Mark Graban
We are proud to be able to include the thoughts of one of our own experts in Kaizen, Mark Graban. He is author of two Shingo Research Award-winning books, and has worked as a consultant to healthcare organizations throughout North America and Europe, teaching and implementing kaizen and other Lean management practices. His work, Healthcare Kaizen: Engaging Front-Line Staff in Sustainable Continuous Improvements, co-authored with Joseph E. Swartz, addresses both the incremental nature of Kaizen and the importance of involving everyone.
"In a Kaizen approach, we do not start by trying to improve what others do. Instead, we start by improving what we individually do. Start with something that is quick and easy. Often, a good place to start is simply moving something in the workspace closer to the work, making each day easier. Once benefits accrue from a few small improvements, motivation and confidence will grow, allowing people to tackle more difficult, more time-consuming improvements. The best way to get started is to make it quick and easy and then just do it."
"Kaizen allows leaders to get everybody involved in continuous improvement – this means front-line staff as well as leaders at all levels. Kaizen is not an approach that is limited to managers or improvement specialists from a central department. Kaizen is for everyone. Kaizen is the improvement of anything, anywhere. When applied in organizations, Kaizen is a way to improve the way work is performed, while also improving employee morale. When embraced as a philosophy, people inevitably find opportunities to apply Kaizen in their personal lives and work lives, at home and on the job."
Hopefully this collection of ideas has given you deeper insight into the meaning of Kaizen, along with some additional resources for expanding your understanding of the approach.
Free Webinar:
How Personal Growth Plans Support Continuous Improvement
May 12 from 1-2 EDT
Join us for a very special conversation with a Lean legend, Norman Bodek. Norman worked with, translated, and published the books of Taiichi Ohno and Shigeo Shingo, credited as creators of the Toyota Production System.
In this webinar, you'll learn:
Lessons from Norman's 80+ visits to Japan
The "9th Waste" of Lean
The role of managers in creating a culture of continuous improvement
The importance of personal growth plans and self reliance
How the "Harada Method" furthers these goals of self reliance and Kaizen