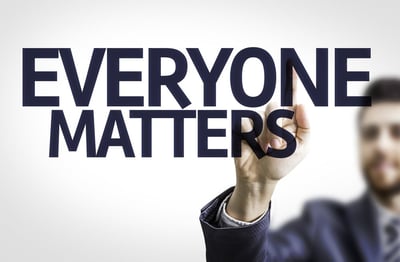 One of the questions that we get asked most often by leadership teams trying to adopt the Kaizen approach to business that made Toyota so successful is who in the organization needs to be involved? It's a good question, but one that's relatively easy to answer by examining the principles behind the Kaizen philosophy.
Kaizen means "positive change" or "continuous improvement" in Japanese. Those who practice Kaizen believe that small changes can produce impressive results and that ideas for positive change should come from the people doing the work. When Toyota introduced Kaizen, they made it clear that continuous improvement was everyone's job. The goal of modern organizations is to develop a culture of improvement that envelops every single member of the team.
Once you realize that everyone should participate in Kaizen, but the next question is how? Each role has a different set of responsibilities related to improvement.


Senior Leaders
The executive leadership team has the onus to set the tone for Kaizen and provide the necessary support and resources to create an environment that is ripe for positive change. They start the process of strategy deployment, or Hoshin Kanri, that aligns improvement efforts across the organization. Employees will look to the leadership team to determine whether Kaizen is just another buzzword, or if it really is the paradigm through which the organization will be managed. Investments in training, improvement management technology, outside consultants, and other needed resources reveal the commitment level of the C-suite.


Department Leaders and Supervisors
The example set by department leaders and supervisors is also critical to the development of a culture of improvement. They will help team members learn how and when to use Kaizen techniques like PDSA, Catchball, 5S, and others. They are also in the position to coach members of their department and to ensure that improvement activities are central to performance evaluations. Department leaders and supervisors are also tasked with making sure that Standard work is implemented and consistently applied.


Team Members
Front-line employees are in the best position to notice opportunities for improvement, develop solutions, implement changes, and sustain the improvement over the long-term. Kaizen can't really exist in an organization without the involvement and commit of every team member. Each person should understand how their work relates to the overall goals and objectives of the organization. They should be empowered to report and react to quality or performance problems. It should be common knowledge that innovation is not a top-down pursuit. Breakthrough ideas can come from anyone.


Human Resources
People look at us weird when we bring up HR when discussing Kaizen, but their role is important enough to call out. New employees should be screened for their "Kaizen aptitude." That doesn't mean that they need to have worked in a Kaizen workplace before, they don't even need to be familiar with the word, but they should be willing to embrace the philosophy and look forward to contributing to positive change. HR also often bears responsibility for both training and employee performance measurement, both of which should be infused with Kaizen.


A Note on Kaizen Events
We've been talking so far about Kaizen as a daily practice – a way of thinking and a constant reality. However, some organizations also practice Kaizen events, short (3-5 day) intensive improvement periods devoted to solving a particular problem or improving a target process. When it comes to who should be involved in Kaizen Events, the same principle that guides daily Kaizen should apply. Kaizen event teams typically include:
An executive sponsor who approves the event, marshals the resources needed and removes any roadblocks that get in the way of progress.
A facilitator who keeps the team organized and ensures that the work is well documented and that the required reports are prepared and presented. The facilitator also resolves any conflict and makes sure that resources are efficiently deployed.
The day-to-day owner of the process to be improved. This person clearly has a significant stake in the outcome of the event and insight into the challenges to be addressed.
Members of the team that actually do the work are always involved in a Kaizen event. They are in the best position to reveal the current process state, make suggestions for improvement, and implement the agreed upon solutions.

The Kaizen way is something that should become part of the DNA of the organization from the top down. It doesn't happen spontaneously. Leaders must set the right conditions for success and recognize and reward those who engage in Kaizen wholeheartedly.