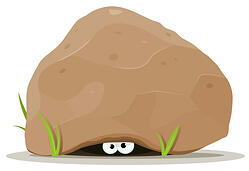 Gemba Walks are an important part of many continuous improvement initiatives. They give leaders the occasion to visit the place where work is actually being done and observe the work first hand. But, an effective Gemba Walk is more than just a stroll. Leaders who gain the most from them know what they are looking for in advance and focus on some very specific rocks under which opportunities for improvement often hide. Here are some of them:
Opportunities for Error
Identifying and eliminating opportunities for error can have a significant impact on quality, efficiency, and the timely delivery of products or services to the customer. To find opportunities for error, ask:
What mistakes could be made in the process?
Is there anything in place to prevent the mistake?
What, if anything, alerts the worker that a mistake has been made?
Are there distractions that disrupt the work?
Work Area Set Up and Layout
The way the work area is equipped and designed is an important factor in productivity and effectiveness. Test assumptions about the work area by asking:
Is the work area stocked with needed resources?
Do workers waste time tracking down items?
Is there unnecessary movement of raw materials, inventory or people?
Standard Work
Quality results depend on defining, communicating and updating the best practice for each process, or Standard Work. A Gemba Walk is an excellent opportunity to observe whether Standard Work is being practiced.
How do workers know what to do and how to do it?
Are instructions documented and up to date?
Is training done in a consistent way?
Are the documents accessible at the place where work is being performed?
How do supervisors or managers react when standardized work is not being followed?
Resilience
No matter how strictly Standard Work is documented and adhered to, there will be unexpected deviations in every process. Determine how resilient your people and process are by asking:
What happens when a person runs into something unanticipated?
Is there a way to request assistance?
How is the problem reported?
Do they get a constructive response from their leaders?
Who determines if it is an anomaly or something that requires additional investigation?
Each Gemba Walk opens up the possibility of positive change. Looking at these specific areas will help ensure that the walks are a valuable use of time and that they foster a collaborative approach to eliminating waste, improving quality and ensuring customer value.
Download this free guide to learn how to have Gemba Walks that actually result in improvement: