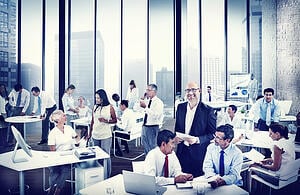 If you were watching CSI Tokyo, much of the action would take place at gemba, the scene of the crime. In Japanese, the word gemba means "real place."
In the practice of continuous improvement, gemba refers to the place where work gets done. It could be a factory floor, a sales bullpen, a hospital admissions desk, a call center, or any place where people actually add value to products or services.
Gemba walks are an important part of the Lean business management methodology, but they can also provide substantial value to organizations looking to achieve continuous improvement with or without a structured business management approach.
What is a Gemba Walk?
A gemba walk is the practice of observation and collaboration at the place where work is being done. Managers performing a gemba walk physically go to the place where others are building products, providing service to customers, processing data, preparing shipments, or performing other tasks. The goal of the gemba walk is to gather information and feedback, as well as to witness processes first hand with an eye on opportunities for improvement.
There's a big difference between discussing processes and problems in a conference room and actually seeing how work is done. Employees also tend to be more inclined and capable of describing inefficiencies, safety hazards, and other concerns when they are in their own workspace. Leaders who are committed to continuous improvement spend 45-60 minutes a week on gemba walks. It is important to mix up the timing of gemba walks so managers get the opportunity to study work processes that occur during different times of the day and days of the week.
Gemba Walk Don'ts
The purpose of a gemba walk is to observe, not to prescribe solutions. Ideas for improvement should be noted and addressed later. Better yet, it's great to lead by asking questions rather than giving solutions.
It is also important not to use the gemba walk as a time for criticism, performance evaluation, or policy enforcement. Doing so will only serve to curtail honest feedback and potentially obscure the real state of affairs, negating the point of the practice. In order for an organization to embrace change, the gemba walk must be positioned and used as a way to support staff and improve workplace performance, not as a punitive or micro-managing maneuver.
After a gemba walk, managers should reflect on their observations, seek clarification, and confirm any assumptions with the team before making improvements based on the observation. Gemba walks are a simple, yet powerful technique for gaining a better understanding of the issues facing the people who are closest to your products and customers.
Download this free guide to learn how to have Gemba Walks that actually result in improvement: