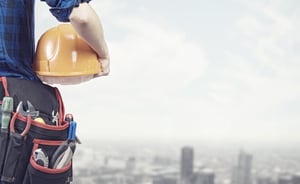 We are starting to see a sharp increase in the number of construction companies that are coming to us in search of a software solution to support their efforts to implement Lean management principles.
Many leaders in the space recognize that they can reduce costs, improve safety, deliver more value, and adhere to budgets by applying the tools and techniques that have been popular in healthcare and manufacturing for so long.
For those in that camp, we'd like to share some important advice that we have learned from our clients in construction and related industries.
Take the time to help employees fully understand the point of Lean construction
Many people react negatively to the idea of Lean management because the word "lean" tends to imply doing more with less or cutting jobs. That's why it is important to introduce the concept in a way that emphasizes the desire to provide the ultimate value to the customer, with the most efficient use of resources along the way. Lean can only be effective over the long-term if it takes root in the culture. This happens when people see the more than just the tools and techniques of Lean. Those trappings are important (more on that in a minute), but it is the central idea that there is a need for daily improvement and that improvement is everyone's responsibility that really needs to sink in.
It's OK to put the cart before the horse
We just said that the philosophy and culture of Lean are more important than the tools, and we haven't changed our minds in the last 30 seconds, but don't introduce the idea of Lean and then just wait for good changes to happen. By rolling out the use of Lean construction techniques and making them a central part of the way the company operates, you will get to the point where Lean is second nature much more quickly. When employees become proficient with tools like value stream mapping, A3s, DMAIC, and 5S, Lean begins to feel more real and it is easier to see the benefits. As Aristotle reportedly said, "We are what we repeatedly do. Excellence, then, is not an act, but a habit."


Don't Just Prioritize Top-Down Thinking
Traditional construction companies operate in a strict top-down fashion with all direction coming from the top. Lean management requires a different approach in which front-line employees are empowered to recognize and respond to problems and opportunities to reduce waste. Ideally, the upper levels of the hierarchy exist to manage the strategic direction of the organization and to provide the resources that front-line employees need to be successful.


Be quick to recognize success and document the impact of change
It is important to get some quick wins and make a big deal of them. People are often reluctant to point out problems because they don't want to be seen as complaining or ratting out their co-workers. But when they see a successful improvement cycle and whiteness the people involved being recognized and rewarded, they become more comfortable getting engaged. Measuring the impact of positive changes also helps to amplify the value of Lean and it helps people understand exactly what types of results they can expect.


Align objectives and accountability
The most successful Lean construction companies we have seen have a clear set of business objectives. Many use the Hoshin Kanri approach to strategic planning to set the company on its path to "True North." Part of strategy deployment is ensuring that each individual knows how they can best contribute to achieving the most important goals. Performance evaluation is based in part on engagement with improvement work.


Set up the framework for collaboration and project management
We hope you'll consider KaiNexus as a platform for Lean, but even if you don't it is crucial to have some sort of structure to your improvement work. Lean construction software provides a central repository for all opportunities for improvement. It allows for cross-functional collaboration and offers active alerts and notifications to make sure that progress never stalls. Most importantly, it serves as a knowledge bank for the organization so that no lessons learned are ever lost.


If you apply this advice, we're sure you'll join the ranks of our clients who have seen costs and accidents go down, and customer and employee satisfaction improve. Just like any good construction project, the successful implementation of Lean requires a solid foundation, the right tools, and a team that is obsessed with quality.