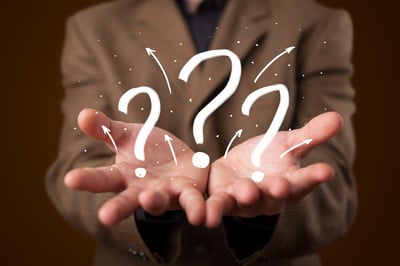 The three most common questions we get about Lean management software are:
Why do we need it?
What does it do? And,
How do we implement it?
These are all excellent questions. This post has the answers.
Why?
Lean Software creates one version of the truth
Email is great as a platform for reminders but doesn't give people one place to go for real-time information. Spreadsheets are fine for keeping lists, but they are a passive and easily damaged source for data. Lean management software is an alternative that gives everyone one on the team one place to go for the latest updates. Everyone is on the same page because they are looking at the same information, not some email message or file that may be out of date.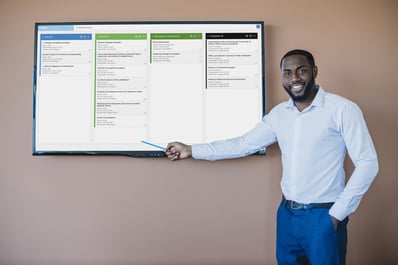 It is available any time, from anywhere
Analog tools, such as huddle boards and Kanban boards were once the go-to options for Lean managers. They make sense in many situations, but these days much work takes place out of the office or requires collaboration by people who aren't in the same location. Cloud-based Lean management software makes it possible for people to work on improvement projects and tackle problems together from wherever they happen to be and on the device that they prefer.


Lean software support improvement culture
When teams implement Lean management software, they quickly develop a common language for improvement work. They formulate consistent habits for reporting opportunities for improvement, and a shared experience begins to emerge. This strengthens the culture and helps Lean become a standard part of how work gets done on a daily basis.


People take Lean more seriously
When the executive team is willing to invest in Lean management software, employees recognize the understand that it is essential to the success of the organization and act on that information. Deploying and providing resources for this technology makes it clear that Lean isn't just another management fad, but rather, it is central to how the business will operate.


Active management accelerates improvement
Lean software keeps managers informed about the progress of improvement work so that they can coach the team or remove obstacles early in each project. Each person knows when a task is assigned, or a due date is missed.


A repository of knowledge is created
Improvement software serves as a collection point for all information about opportunities for improvement and implemented projects. Teams can learn from past results and repeat what works and avoid past mistakes. New employees can quickly come up to speed and important knowledge isn't lost when people change roles or leave the company.


Leaders can manage the health of Lean
How many opportunities for improvement were added last quarter and who worked to implement them? Are there any projects that are being neglected or require executive support? What kinds of improvements are being executed? Who deserves recognition? In what ways has Lean impacted the organization? These are all difficult questions to answer without a centralized Lean management platform in place.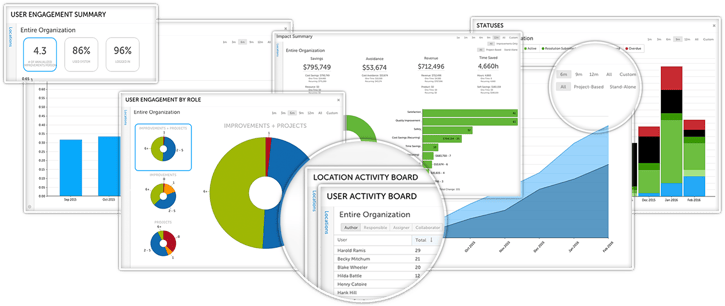 ---

What?
If these benefits have you convinced that Lean software could help your organization achieve its improvement goals, then you are probably wondering what to look for in the technology. What exactly does Lean management software do? Here's what you can expect out of the best solutions.


A cloud-based, mobile-ready platform for improvement projects
We wrote above about the benefits of having a single source of the truth that is available by everyone, from everywhere. The best way to realize this advantage it to choose a cloud-based solution with a mobile application.


Workflow with automated alerts and notifications
The solution should include email alerts and warnings that actively remind team members and managers when new tasks are assigned, or due dates are approaching.


Robust search capabilities
The ability to search the knowledge repository for past projects is essential to making sure that the information is used effectively to build on past successes or avoid mistakes.


Built-in collaboration tools
Many of the most impactful improvements require cross-functional collaboration. The Lean management system you select should make it easy for people to work together on projects, even if they aren't on the same team.


Advanced reporting and analytics
One of the most significant advantages of Lean software is that it makes it easy for executives to justify their investment in improvement work. Look for technology that supports this with impact measurement and detailed reporting and analytic capabilities. The best solutions offer data visualization and customizable dashboards.


Success broadcasting
Lean culture really takes off when people celebrate and announce success. Success broadcasting is a feature you'll want to be sure is included in any solution you consider.


---

How?
Once you've selected the solution, the next challenge is to ensure widespread adoption. After all, it won't work if people don't use it. Here's what we've learned works when it comes to getting people on board.
Give it Context
If the idea of using Lean management software seems to come out of nowhere, people may see it as a solution looking for a problem. Instead, people should be introduced to Lean and understand what it means for the organization. The software will not be sufficient on its own, it must be one aspect of a culture that embraces Lean principles.


Choose a user-friendly solution
Your technology decision will make a big difference in whether employees love or hate your Lean software. Be sure to consider the solution from the employee's point of view. Can I get the information that is useful to me quickly and easily? Can I access it from the device of my choice? Is the user interface easy to figure out? Can I get help when I need it? Does it fit in with how we operate?



Provide ample training
The solution you choose should be easy to use, but that doesn't mean that people don't need to sit down with a knowledgeable trainer or power user to learn how to get the most out of it. Ideally, your solution will be user configurable so that everyone gets the information they need immediately, setting this up for the first time often requires training or assistance.


Answer, "What's in it for me?"
When employees realize that a primary goal of Lean is to make their work more productive, more enjoyable, and more aligned with company goals, they readily accept and use the tools designed to help. Lean software is a way to make employee voices heard, streamline work that they are already doing, learn from others, and eliminate non-productive tools like email and spreadsheets. It also helps managers focus on employee accomplishments and gives everyone a way to document the impact of their improvement work.


Include Lean in Employee Performance Reviews
What you measure will improve. If you want employees to get engaged with your Lean technology solution, it is smart to make doing so part of how they are evaluated. Set goals related to improvement activities and reward those who achieve them.


Make it Enjoyable
There are lots of ways that leaders can make using Lean software fun. Some organizations use a gamification approach by rewarding the people or teams that enter the most opportunities for improvement or achieves measurable impact from improvement. You can use Lean software for event planning or for organizing holiday parties or outings. Maybe you broadcast the most innovative, out of the box idea for improvement once a quarter. Whatever you do, injecting some excitement in your Lean program is always a good call.


This post isn't an exhaustive guide to Lean software, but hopefully, it's been a helpful source of information about why Lean software is useful, what it should include, and how you can make it a success in your organization. If you have other questions, we'd be delighted to answer them in the comments.