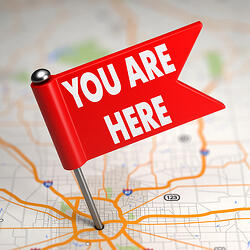 Value stream mapping is a system of visualizing the connection of every action or process required to produce a product to the value it ultimately brings to the customer. The term originated with the lean management method, but the concept can be applied to almost any value chain. The goal is to identify and reduce or eliminate processes that do not add value to the customer, and to improve those that do. This puts the focus of the organization squarely on improving value for both external and internal customers. It considers both physical process and the information systems used to manage and control them. The process varies from company to company and even from product to product, but generally includes the following steps:
Step 1 – Choose a Sponsor and Define Expectations
Someone needs to be responsible for the process of value stream mapping. This person should have the authority to make decisions and create the project plan. The sponsor will often select the processes that will be mapped, so it should be someone with a good knowledge of the target problem.
Step 2 – Assemble a Team
It is important to select people that can represent each group of stakeholders or process owners that will be impacted. For a major process, this may include almost every department with representatives from sales, support, accounting, engineering, production, etc. Others may have fewer constituents and require a smaller team.
Step 3 – Select the Process to be Mapped and Problem to be Solved
Value stream mapping is most often associated with manufacturing, but it can be applied to almost any process and has been used in logistics, software development, healthcare and other service-oriented industries. It is also useful for internal administrative and office processes, where the customers are internal. It is important to select processes to be map that are associated with problems reported by customers or problems central to the business. For example, customers may be experiencing quality issues with a product resulting in a high number of returns or service cancellations. Or, production costs may be increasing, resulting in margins that are unacceptable to the business. In each case, a value stream map might be useful.
Step 4 – Create the Current State Map
This step involves data collection related to all aspects of the current state. It is important to be as through as possible as the current state map will likely reveal opportunities for improvement. It should include customer requirements, materials information if applicable, process times and information systems involved. Software tools can be used to create the current state map, or it can simply be drawn on a piece of paper. Some teams find it useful to create the map together on a large whiteboard or paper taped to the wall.
Step 5 – Evaluate Current State
Now that the current state is understood, it is time for the team to analyze, inspect, and critique each part of the process. This analysis should be objective and should always be approached from the point of view of the customer, whether the customer is internal or external.
Step 6 – Create the Future State Map
Now that the weaknesses of the current state are well understood, the team can start to imagine and visualize what the improved process could look like. The quality of the current state map will have a direct impact on the future state map, so it is important to make revisions if errors or omissions are discovered during the evaluation.
Step 7 – Plan and Act
With the difference between the current state and the desired future state understood, it is time to create and implement an action plan to achieve the future state. This may involve eliminating or automating processes that aren't adding value, or reworking those that do.
Step 8 – Measure
As with any process improvement initiative, it is important to measure the impact of value stream mapping by determining the additional value to the customer. If the process improvement was successful, it may be applied to other similar processes, products, or customers.
Although it is a relatively simple idea, value stream mapping is an extremely useful way to help organizations focus on structuring processes around customer needs. It can identify opportunities for improvement and help eliminate processes that are not contributing to customer satisfaction.
What about you? How has value stream mapping helped your organization? Leave a comment and tell us about it!