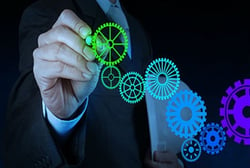 Investing in technology to support your Lean management efforts is an excellent way to ensure that you get the most out of the approach. Providing a structure makes it easier for people throughout the organization to participate in, and effectively manage, continuous improvement efforts. Companies that leverage a lean management system collect more opportunities for improvement, make more improvements, and see a greater ROI for Lean. You have a number of choices when it comes to Lean management technology. Here are some of the core capabilities that you should look for when evaluating your options:
Collect Opportunities for Improvement
Making it easy for everyone in the organization to identify and report opportunities for improvement is fundamental to the Lean approach. For this reason, we recommend a cloud-based technology that is available on the mobile devices employees carry with them every day. That way, your team can immediately report an opportunity for improvement wherever they happen to find it and before the opportunity slips their mind.
Manage Improvement Workflow
Once opportunities for improvement are identified and reported, they must be evaluated and potentially assigned for action. You should look for software that makes it easy for managers and supervisors to act quickly and assign tasks to the right individuals and groups. Notifications and alerts should be in place to make sure that improvement progress doesn't stall, and that ideas don't fall through the cracks.
Measure Impact
Impact measurement is one of the most important, but most frequently neglected, phases of Lean management. You should be able to document the impact of your improvement efforts in terms of cost savings, additional revenue, increased customer satisfaction, improved safety, and other metrics that are important to your business. Your Lean management system should simplify collecting and reporting on this data.
Improvement Broadcasting
Lean is a team sport. Organizations that see the most benefit from the methodology are those that embrace a Lean culture. In a Lean organization, employees value improvement and are recognized and rewarded for their results. The ability to broadcast successful improvement provides a built-in feedback system and ensures that this necessary step isn't forgotten.
Congratulations on making the decision to fully commit to Lean and employ the tools that will accelerate your efforts. By choosing technology that includes all of this functionality, you'll put your organization on the fast track to improved business results.