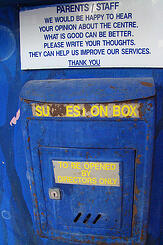 We spend a lot of time at KaiNexus talking to people about the strategies they've tried when pursuing a culture of continuous improvement. One of the most common methods we hear about is a traditional suggestion box.
People are often surprised when their suggestion box fails to engage employees and promote lasting, impactful change in the organization... but we're not.
Suggestion boxes fail for a variety of reasons, ranging from poor leadership engagement to few idea submissions. KaiNexus solves all of those typical problems through a variety of features that get more people engaged in improvement efforts through improved communication and transparency, resulting in the implementation of more opportunities for improvement.
The origin of the suggest box system
Top reasons suggestion boxes fail
How KaiNexus solves all of those problems to create a sustainable culture of continuous improvement