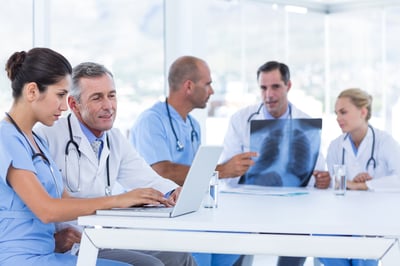 The Lean business approach is becoming increasingly popular in healthcare organizations. Leaders have discovered that Lean is a perfect fit for healthcare because it helps improve resource utilization and reduce costs while keeping quality patient care as the top priority. To get the most out of Lean, many hospitals and healthcare networks use a software platform that supports Lean principles and related techniques. If you are considering leveraging technology to accelerate your mission to reduce waste and increase employee engagement, this post will help.


Core Features of Lean Software for Healthcare
There are lots of project management and collaboration software products available. Most have features for task scheduling and document sharing, but not all are designed to meet the specific needs of Lean healthcare organizations. The following features set Lean software apart from generic project management systems.


Capture Opportunities for Improvement
In Lean healthcare organizations, clinical and administrative staff are asked to identify and report opportunities for improvement. Lean software is the platform for capturing each problem and improvement suggestion. Improvement collection is so central to Lean that it must be easy for anyone to enter a new opportunity with all relevant details and documents. The best solutions are online and available 24x7 on any device.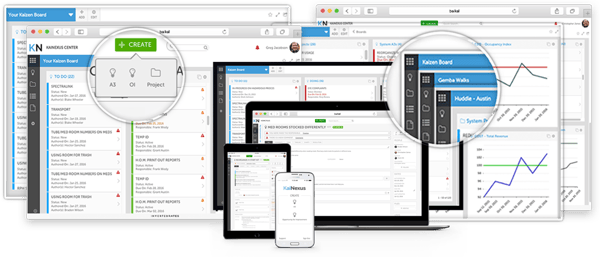 Software-based Huddle Boards
Daily huddle meetings are a popular Lean technique often used in healthcare. Traditionally, teams gather around a whiteboard or poster that lays out the current state of improvement work. Lean software takes this technique online by creating virtual huddle boards that show more than just the current state. Users can drill down into each project to understand the situation and add information. When the project is complete, users and managers can check the long-term impact. If you still want to have a standing meeting, you can use digital wallboards to make it interactive.


Notifications and Alerts
Healthcare providers are used to receiving alerts when a patient's lab values or vital signs are out of range. In the same way, Lean leaders and managers want to be warned when rapid action is needed. The best Lean platforms provide workflow for every opportunity selected for implementation. The people who need to know receive alerts and notifications when tasks are due or a deadline is missed. Alerts help to ensure that no ball is dropped and that all employees are actively engaged in Lean.
Impact Reporting
Most healthcare organizations are data-driven and require quantifiable evidence that an improvement has been effective. Choosing software with impact analytics is the best way to get insight into whether your Lean initiatives are improving results related to specific strategic goals. A software platform is the best way to track the impact of improvements over the long term.


Activity and Engagement Analysis
Building a Lean culture in healthcare requires constant management. To ensure that Lean ideas spread, leaders need insight into the engagement level of each department, team, and person. Lean software provides activity and engagement reporting. Leaders and managers can identify trends in key metrics like the number of new opportunities for improvement submitted, the number of completed projects, and how often people engage with the solution.


Success Broadcasting
The fastest way to spread Lean is to recognize and reward the people who are driving the push for positive change. The best Lean software solutions have built-in improvement broadcasting to make it easy for managers to let everyone know when good things start to happen.


Beyond Features
Each of the listed features is essential, but they aren't the only vital considerations for healthcare organizations. You'll want to look for a solutions provider that will be a good partner and help Lean take root in your organization. Consider:


Implementation and Support
We recommend looking for a provider that will provide you with a dedicated account manager to ensure your success. Find out upfront whether you will have help during configuration and deployment and what form ongoing support will take.
Healthcare Customers
Healthcare organizations' needs are unique, and not every solution that works in other sectors is a good fit for healthcare. That's why it is important to talk to any provider you consider about their experience in healthcare and look for one that has clients similar to your organization.


Online Documentation and Self-paced Learning
Don't think about training as a one-time event. Turnover in healthcare is typical, so choose a solution with an intuitive knowledge center and video training so that you can bring new employees up to speed quickly.


Healthcare organizations can be transformed by Lean in ways that improve patient outcomes, lower costs, and harness the wisdom and creativity of every employee. Software accelerates the pace of change and makes management and reporting a breeze.