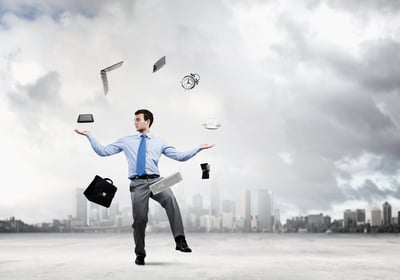 The Project Management Institute (PMI) is a global nonprofit professional organization for project management. They wrote the book on project management. Literally. It's called the Project Management Body of Knowledge, and it has become the standard by which PMP (Project Management Professional) certification through PMI is obtained.
To become certified, applicants must demonstrate proficiency in what PMI calls ten project management knowledge areas.


Project Integration
Project integration is the ability to bring together all inputs to manage the project as a whole and in pieces and patches. It includes basics like developing the project charter and the project management plan. It also includes directing and managing the project work resulting in the production of deliverables and controlling for any changes or unexpected issues that might occur.


Scope Management
Scope management is one of the most vital tasks of the project manager. The scope makes clear what the project will deliver and what is excluded. Project managers need the skills to gather requirements and define the scope and stick to it. A project manager must be able to craft a scope statement, which may be a simple list, or a more complex document depending on the project. Throughout the life of the project, the manager must monitor the deliverables to make sure they are in scope and approved by the sponsor or stakeholder.


Time Management
The knowledge area of time management involves understanding the time commitment of each person to their project tasks and projecting the overall timeframe of the project. The project is broken down into tasks, which are added to a schedule with start dates, dependencies, deadlines, and budgets. Dates will almost always shift, so time management requires constant adjustment.


Project Cost Management
Budget management is an essential part of most projects. Project managers must be adept at forecasting the cost for every part of the project and implementing procedures to control it. Expenses related to labor, materials, equipment, and other resources must all be considered. Pre-start value analysis may help determine whether the project will proceed or not.


Quality Control
A project may end up on time and on budget, but if the quality does not meet the standard, then the project will not be a success. Quality management must be baked-in to everything the project manager and team members deliver. There must be a set of standards by which quality will be judged and a data set to support it. Inspection should be in place to ensure that the standards are met.


Procurement
Many projects involve outside acquisition of human or physical resources. Project managers should be adept at procuring resources in a way that adds value and minimizes waste. The first step is identifying the outside needs of the project. Project managers should understand how to evaluate vendors, initiate requests for proposals, and contract negotiation.


Human Resource Management
The project team is the most valuable resource, so it is essential to have a great team and keep them engaged and excited about the project. Project managers need to strike the right balance between delegating tasks, inviting creativity, leveraging expertise, and maintaining control. The roles and requirements for each team member should be defined and aligned with the project's structure. Finally, team members should be recognized for their contributions to the project.


Communications
A successful project manager is an outstanding communicator who can keep the information flowing to all stakeholders. Executive sponsors, team members, department heads, customers, vendors, and the broader organization all have different information needs. Great project managers don't overwhelm constituents with needless updates, but they make sure that no one is in the dark when it comes to need-to-know info.


Risk Management
No project worth doing is without risk. Therefore, effective project managers must be good at making a pre-project assessment of what the likely risks will be. Those risks are then classified and prioritized based on the likelihood that they will occur, and the impact should it happen. For high-likelihood and high-impact risks, there should be a response plan defined in advance, and an owner.


Stakeholder Management
Stakeholder management isn't just about communications, although that is a big part of it. It is also about keeping the needs of the stakeholder top of mind at all times. That necessitates having a solid understanding of who will be impacted by the project and how. Setting the right expectations is also a critical aspect of stakeholder management.
As these knowledge areas make clear, it takes many skills to manage complex projects. If you want to be an effective project manager, you now know where to start honing your capabilities. If you're going to hire one, this list will make an excellent set of discussion points during the interview. Either way, our hats are off to all of the professional project managers who practice these skills every day.