I'm well into day two of the Lean Healthcare Transformation Summit in Washington D.C., and while there are 8 breakout sessions to choose from right now, I came back to the coldest room in the hotel for more Cleveland Clinic. You can check out what I learned about their tiered huddles in yesterday's session here.
(Side note: Why are conference meeting rooms so cold? Are the hotels trying to keep people awake? Sedate us? I'll never know.)
I must not be the only one who can't get enough of this organization, because at this moment we're 15 minutes from the start of the session and it's already standing room only. Today's Cleveland Clinic presentation is led by Melissa Vandergriff, the CI Program Manager.
Vandergriff began the presentation by creating real-time word clouds using feedback from the audience about what happens when leaders solve problems vs. when employees do.
When leaders solve the problem, there are both pros and cons. It's likely that they can make rapid progress, they can work within the bigger picture, and they're able to work more quickly through barriers - but they're also limited by their capacity and knowledge, and the countermeasures aren't owned by the them.
When employees solve problems, they're able to come up with more ideas, can see opportunities for improvement that the leader wouldn't have seen, and have ownership over the process. On the flip side, improvement takes them away from the work, moves slower, and there's often a limited view of what's possible.


To get the positives of both managers and employees solving problems, Cleveland Clinic coaches both groups to hone the right behaviors. What system helps promote these behaviors?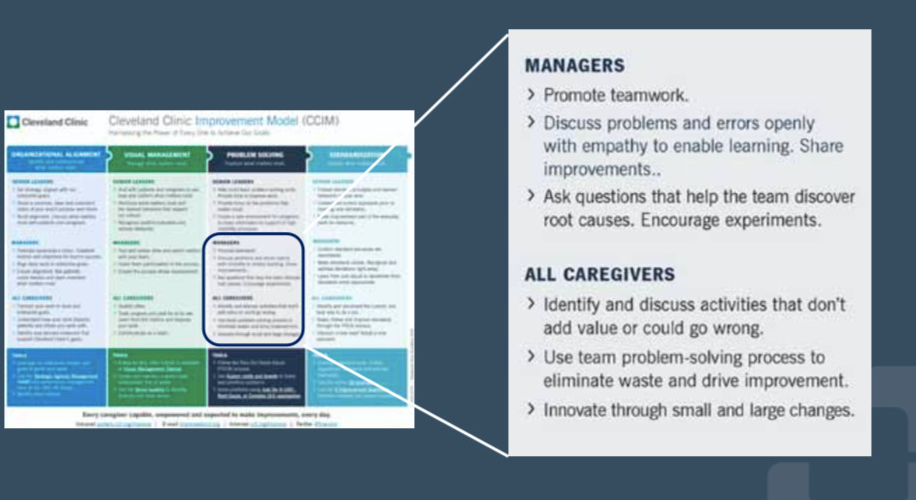 System Attributes that Promote These Behaviors:
Cleveland Clinic has developed an improvement system that promotes these behaviors in both managers and employees by making sure that it's:
Easy to identify an opportunity

Cleveland Clinic uses Kaizen Cards that capture what problem you're trying to solve and what is the target condition. Anyone can fill this out, from staff to patients. There are only a couple of questions on the form that people have to answer, and they're not asked to identify the solution. Keeping the submission process simple is critical for engagement.


Method to work through an opportunity

People are given a space and a time to work through the opportunities they've identifies. They have boards that people can huddle around, and have a standardized process for huddles that's a dedicated time to problem-solving. Anyone can be a part of the huddle, and Cleveland Clinic has developed very detailed process for how to work through a huddle and drive improvement to the finish line.


Coaching is built in to the process

The cards coach people through the process of identifying a problem, not blaming people, and encourages the team to focus on root-cause analysis and developing solutions that address that root cause. Their Lean experts coach staff and managers, but they also coach each other. The managers aren't the ones leading the huddles; they're there to help remove barriers. It's critical that they're there as supporter and coach, rather than taking on the responsibility of solving all the problems themselves.


Cleveland Clinic uses kaizen boards and kaizen huddles to process the aforementioned cards. Anyone can fill out a card, and it gets placed on the board to be reviewed, implemented, and standardized. A lot of this work takes place in kaizen huddles, in which employees gather to review opportunities, identify root causes, and implement countermeasures.


What are the key components of the kaizen huddle?
Standard Work. The standard work is critical to keeping on track and flowing through the meeting efficiently.
Engagement. Including the people who are solving the problems, so they can speak for themselves and feel more ownership of the process. This develops people as problem-solvers, takes the burden of solutions off of managers, and results in a more improvement across the organization.
Discipline. With practice, the team learns that it's not about just getting through the cards - it's about making gradual, continuous improvements to solve problems. When you apply the same methodology over and over again, it becomes engrained in the culture of your organization.
Thanks to Cleveland Clinic and Melissa Vandergriff for another engaging presentation at the Lean Healthcare Transformation Summit!