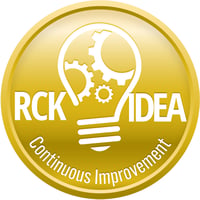 Recognizing and rewarding employees on their efforts is a critical component of a continuous improvement culture. Without recognition, it's typically challenging to drive employee engagement. Your employees need you to recognize the work and contributions they make, and as a result of recognition, they'll continue to produce work that both you and them are proud of. The recognition program can range from something as simple as thanking them for their work, or you can have a more formal program like Employee of the Month.
The team at Rockwater put together a program to encourage KaiNexus participation and drive overall continuous improvement engagement. Here's more detail on the participation and bonus program they created.


Sticker Program
In the oil & energy industry, employees are no stranger to stickers on hard hats. Stickers are a great visual aid to identify different kinds of workers out on the field. According to T.F. Harper & Associates LP, "Not everyone is qualified to perform every task on a work site. So, being able to pick out who is qualified to do something quickly is a major benefit." Stickers can identify specific employees out on the field, and they are also used to represent accomplishments.
At Rockwater, the sticker program utilizes hard hat decals to signify the number of improvements a team member contributes annually. Given the importance and symbolism of stickers in the oil & energy industry, this is a huge incentive. The sticker for the hard hats promotes participation, markets the program by showing others your success, and creates a friendly competition to submit extraordinary ideas. Here is how the sticker program is scored:
Cost Savings Bonus Payout
Another participation tactic the team at Rockwater created is the cost savings bonus payout. To align with the idea of driving improvement ideas, a bonus payout is awarded to the author of the submitted and implemented idea. One of the requirements is that the idea's annualized cost savings must be a minimum of $12,000. Once the cost savings is confirmed after a three month validation period, a one-time payout will be paid based upon the annualizing cost savings.


Whether you're doing something unique like stickers or a financial rewards program, the common goal is to provide recognition to your employees for their work. To continue driving a culture of continuous improvement, employee recognition and engagement are keys to success.