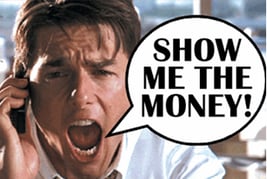 We're sorry to disappoint you if you were looking forward to the longest list style blog post ever. When we reference 6201, we're not talking about the number of bullet points, we're talking about the average financial impact of each user of the KaiNexus Kaizen software solution.
That's right, our customers combined have implemented more than 11,000 improvements for a total financial impact greater than $75,000,000. The average user has had an impact of $6,201 to the bottom line, coming from either in cost savings, increased revenue, or waste elimination (including wasted time). When you add to that the impact of "softer" improvements like increased safety, quality, customer satisfaction, and staff satisfaction, the ROI for Kaizen software is even more astonishing.
Here's how it works.
Step 1: Identify and Document Opportunities for Improvement
Your organization is probably already very good at identifying opportunities for improvement. If you put a listening device in the break room or near the water cooler (not an actual recommendation), you'd likely hear sentences that begin, "It would be so much easier if we just …" or "I don't see why they don't …" Front line employees are usually very good at recognizing what isn't working well and imagining alternatives. Most organizations, however aren't very good at encouraging, capturing, and acting on these ideas. That's where Kaizen software comes in. It provides a platform for collecting your team's best suggestions for improvement. It also does something even more important, it signals to employees that leadership is interested in hearing from them and implementing changes based on their ideas.
Step 2: Begin the Improvement Cycle
Once ideas are documented, the improvement effort can begin in earnest. Managers assess improvement opportunities and approve proposed resolutions or coach to find better resolutions. (Our clients implement 79% of all improvement ideas that are submitted.) The role of Kaizen software during this phase is to support the PDSA cycle with alerts and notifications that keep teams in sync and ensure that forward momentum is maintained for all active improvement projects.
Step 3: Resolve and Measure
Once an improvement is implemented, it is crucial to measure its impact to the organization. Sometimes this will involve easily calculated financial benefits such as cost savings (bonus if they are annually recurring), increased revenue, or decreased employee or customer churn. It's critical to note that impacts beyond financial benefits should be valued, measured, and celebrated. Doing so is critical to the long term success of a culture of continuous improvement. Leaders should never undervalue improvements in the areas of safety, customer and staff satisfaction, and higher quality goods and services.
Step 4: Recognize and Reward
One of the often overlooked benefits of Kaizen software is its effect on employee engagement. Our platform includes improvement broadcasting and built-in recognition to communicate gratitude to those who contribute to positive change. The high visibility of improvement work helps the team understand how getting engaged can increase individual market value. We frequently see an improvement "snowball" effect as more and more employees seek that same acknowledgement.
We see $6,201 as just the tip of the ROI iceberg for Kaizen software, and our clients agree. Andy Lehman, Senior VP of IT and Analytics at the Kettering Health Network, put it very well. "KaiNexus has not only enabled thousands of hours in waste elimination from our processes, but has also been a catalyst for cultural change across the organization." Kaizen software has done a lot for Kettering, we'd love to chat about what it might do for you.
Learn more about Kettering's continuous improvement journey in this free webinar recording.
Webinar: A System-Wide Approach to Process Improvement
Get actionable advice from lessons learned in Kettering Health Network's 5 year process improvement journey
See how Kettering's system-wide approach to projects, training, and daily problem solving led to $2.6 million of financial impact last year
Learn about KaiNexus, the continuous improvement software platform that spread continuous improvement by enabling change management and accountability within the system