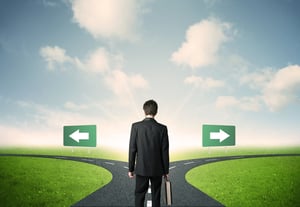 Is 2018 the year that your organization puts some structure around positive change? If so, congratulations! When teams take a more thoughtful approach to improvement, they see better results and get work done faster.
Change management software takes the game to a whole different level enabling collaboration, real-time management, impact reporting and so much more.
Most people don't buy change management software very often, so we've put together this selection guide to help you know what you should look for when evaluating solutions.
For the full guide, download:


See a list of all features and functionality available in improvement platforms

Calculate a weighted score for each platform based on available features and your organization's unique needs

Make an educated, intentional choice about which improvement platform is the best fit for your organization
Organization-Wide Change Management
Good changes aren't always initiated from the executive suite. Great ideas for improvement can come from everyone on the team. In fact, instigating change should be part of everyone's job description. When you are considering a change management solution, make sure that it makes it easy for everyone to offer opportunities for improvement, regardless of their spot on the org chart.


Goal Alignment
Companies don't (and shouldn't) want to make change for the sake of making change. There should be a clear strategy that everyone understands, and changes should be made to support that strategy which will help the organization meet its most important goals. Consider change management technology that allows the overall strategy and goals to cascade across the organization.


Support for Multiple Roles
While we believe that everyone should be involved in change, the needs of each person will vary based on their role. Executives and managers need broader visibility than individual employees, so look for a solution that creates a unique experience based on the user's needs.


Visualization
Pictures do speak louder than words. We process visual information more quickly than anything else. The best change management software includes charts and graphs and idea boards that can be set up for each user. The technology can replace legacy change management tools like huddle boards and A3 papers.


Reporting
When people evaluate any kind of business software, the focus is usually on how information gets into the system. We recommend paying equal attention to getting information out of the system. That's where reporting comes in. Change management software should make it easy for everyone to understand the impact of each improvement project over the short and long term.


Workflow Capabilities
It is easy to get distracted from improvement work as folks engage in their core responsibilities. That's why it is important to look for a solution that includes notifications and alerts via email to help keep people engaged. Individuals should be notified when they have a task to accomplish, and managers should be made aware when a new idea for change is entered or when progress on an ongoing project stalls.


Idea Submission via Email
Of course, you'll want your employees to log into the system as often as possible, but sometimes a great idea strikes when that just isn't possible. You can solve this problem and eliminate the risk of someone forgetting to make the suggestion by picking software that allows for opportunities for improvement to be submitted with a simple email.


Improvement and Project Set-up That's Configurable
The way you implement change will not be the same as the way everyone else does it. What's more, not all of your improvement projects will follow the same path. There are systems that will allow you to configure them to meet your unique needs.


Seamless Collaboration
Most organizations find that the biggest opportunities for improvement with the most impact involve more than one function. That's because there is a lot of risk when work flows from one group to another. Change management software should facilitate cross-functional projects and unite the entire organization on top of a common foundation.


Data Encryption and Secure Hosting
It's 2018, so the change management software you choose will most likely be cloud-based. This is great because it means that the solution is available from anywhere and the vendor, not your IT team, is responsible for updates and maintenance. But it also means that you need to take the security of the system very seriously. Make sure you understand how your information will be protected.


Mobile Applications and Device Independence
Another great thing about a cloud-based improvement solution is that it can be made available as Android and iOS apps and work on the mobile phones and tablets that your employees love.


Your investment in change management software is an important step on the path to continuous improvement. You don't want to make a mistake, so be sure to consider each of these items when you make your choice. If you do, we're sure you'll have made a good one.