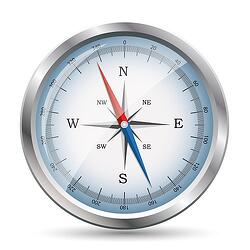 Organizations getting started with continuous improvement practices often worry that the improvement efforts won't align with the goals of the organization. At first, organizations that practice kaizen often try to just get people participating and improving anything that matters to them individually (or to customers). Alignment is important. But, without participation, there's nothing to get aligned.
Hoshin Kanri, or "strategy deployment," is a formal Lean method that is used to get everybody pointed in the right direction. This ensures that improvement efforts are meaningful to the organization, not just individuals.
Steering an organization toward long-term strategic objectives while effectively maintaining and improving key business processes requires systematic planning and good organizational alignment. This is the idea behind Hoshin Kanri, also called Hoshin planning or simply Hoshin. The Japanese phrase, Hoshin Kanri, can be interpreted as "direction management."


A Hoshin Kanri practitioner strives to ensure that:
The entire organization is focused on a few key strategic directions and goals
Objectives are clearly communicated to the entire organization
All leaders are involved and invested in planning
Everyone is accountable for the success of the plan


The entire process includes a number of steps:
Define "true north" objectives that are relatively consistent over time
Identify significant business issues that fit in the true north categories and need to be solved over a 2 to 3 year person
Establish specific measurable objectives to resolve these issues
Define key performance indicators (KPIs) at different levels of the organization
Develop strategies, projects, and tactics to support the achievement of these goals
Review progress monthly & measure business fundamentals

Although Hoshin Kanri is not as common as some of the other tools used for business process improvement and management, it is extremely useful by itself or in conjunction with other continuous improvement methods. It has advantages for almost any type of organization.
People do their best work when they have a sense of purpose and a common objective. When this is the case, everyone in the organization makes better decisions and pulls in the same direction.
A Lean organization creates a culture where everybody can speak up to point out problems and can participate in solving those problems. Hoshin Kanri isn't meant to stifle the creativity. Rather, it's meant to create better alignment so that people and leaders at different levels can better choose what to work on. And, it allows them to better articulate why they're driving improvements - for benefits at the local level and for the organization as a whole.