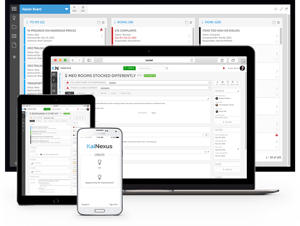 We try to write most of the posts on this blog so that they would be useful to people interested in the continuous improvement model or the Lean methodology, regardless of your interest in KaiNexus' continuous improvement software. Today, I'm going to depart from that a bit and lay out exactly how KaiNexus supports an organization's effort to build a culture of improvement using three main goals: engagement, acceleration, and impact.
The continuous improvement model begins with the idea that everyone in and organization can, and should be expected to, get involved in improvement. Improvement work flows both from the top-down and the bottom-up. The KaiNexus solution is designed to support the efforts of each level.
Leaders - KaiNexus engages leaders by giving them flexible dashboards so that they have real-time insight into the health of improvement activities. They can easily see what is being accomplished, by whom. They are also able to align improvements with the company's strategic goals to make sure that long and short term business objectives are achieved.
Management – With KaiNexus, managers can not only track projects and know who's working on what, but they can also more effectively coach and communicate with their team and others for cross-functional work.
Staff – KaiNexus makes it easy for anyone to report an improvement from anywhere. Alerts and notifications ensure that forward momentum is maintained. Each person knows what they need to do to achieve the goals of the organization and can track the progress of their work.
Once an opportunity for improvement is identified, each day that passes before it is implemented is a form of waste, something that the continuous improvement model is designed to eliminate. Here are a few ways KaiNexus gets you through the process faster.
Cycle Time – Having all of the information about an opportunity for improvement at everyone's finger tips increases the speed of change. Rather than a passive tool, like a physical Kaizen board, the solution is active, reminding people what needs to happen every day.
Collaboration – Because the solution sits in the cloud, people can work together even if they are in far-flung offices or different parts of the company. Some of the most impactful improvements are the result of work that spans departments or teams.
Leadership – When there are roadblocks and improvement work slows, KaiNexus gives leaders the insight they need to address obstacles and get progress back on track.
In order to sustain engagement and earn additional investment, the impact of the continuous improvement model must be apparent. KaiNexus makes that happen in a few ways.
Results – With KaiNexus, you decide which business metrics are important to your organization. You can track results with respect to objectives such as; lower costs, faster delivery times, improved quality, increased customer satisfaction, and more revenue.
Engagement – Our solution lets you measure and monitor something that most organizations find hard to track: culture. You can see how engaged your team is becoming in improvement over time and identify the employees who are most productive and influential.
Reports – You don't just want to achieve business impacts; you want to broadcast them. KaiNexus helps you both measure and share the results of your improvement work. Easy to understand reports ensure that everyone from the C-suite to the front line knows how valuable each improvement is to the organization.
You probably wouldn't be reading this blog if you didn't believe that the continuous improvement model could provide value to your organization. If that is the case, we hope you'll consider the "App" that was designed to ensure its success.