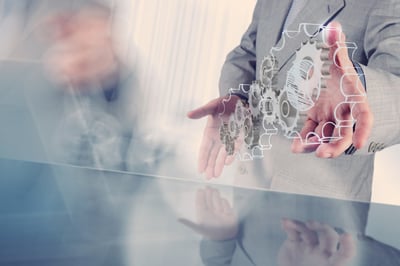 Most organizations that practice continuous improvement whether within a business methodology like Lean or Six Sigma or independently leverage either the PDSA or DMAIC structured improvement cycle. Some organizations use both. PDSA (Plan, Do, Study, Act) is perfect for relatively simple, iterative improvement work. DMAIC (Define, Measure, Analyze, Improve, Control) is ideal for data-driven, more complex initiatives. (This post explains more about when to use each approach.)
Regardless of which continuous improvement cycle is right for your current challenge, software can accelerate the speed to success, ensure that improvement is long lasting, and help you measure the results of the effort. Here's how it helps at each state of both cycles.
PDSA
The PDSA approach, sometimes called the Deming Cycle, is based on the scientific method, which approaches problems through hypothesis (plan), experimentation (do) and evaluation (study). In business, the output of a successful PDSA cycle is a new standard that institutionalizes the improvement.
Plan
An improvement platform helps your team quickly and easily submit Opportunities for Improvement. The best solutions allow people to submit ideas from their web browser, email, or mobile device. Those ideas are then automatically routed to the right manager so someone can be assigned to access them. Ideally, the solution will include notifications and alerts to ensure that the planning process is efficient.
Do
With continuous improvement technology in place, everyone on the team can see what is being worked on without wasting precious meeting time catching up on what's already been accomplished. The system manages each assigned tack and all due dates. If an assignment gets missed, leaders are notified immediately so that quick action can be taken to keep the project on track.
Once the improvement is implemented, details about the process and the expected impact of the opportunity are shared. The software creates detailed metrics that show the total impact of each opportunity across the entire organization. These results can be presented in easy to understand graphs and shared widely.
Study
Look for a solution that gives you easy to read graphs that visualize the impact of improvements being made. You should be able to track several metrics at any time and look at them individually or in a comparison graph. When a project is completed, you can flag it for future review and receive a reminder when it is time to revisit the change and further analyze the impact.
Adjust
The best continuous improvement software solutions come with improvement broadcasting capabilities that make it possible to share improvement results across the entire organization so that everyone can adjust their standards to meet the new best practice. It serves as a repository of tribal knowledge making it easy to build on the successes (or avoid the pitfalls) of past improvement activities.



DMAIC
The DMAIC improvement cycle is one of the most widely used Six Sigma management techniques. Companies across all industries use this improvement cycle to make sure they deliver high-quality customer value with the least amount of friction and waste.
Define
The DMAIC cycle begins with a detailed description of the business problem to be addressed. Documentation is an essential component of DMAIC. Continuous improvement software creates a repository for all of the related documents, assignments, and conversations. Everyone involved has one place to go for information and a single view of the truth. It also serves as a repository of knowledge, so the team can begin the cycle by searching for related issues that have been addressed in the past and learn from what's been done before.
Measure
DMAIC is focused on creating quantifiable impact, so measurement is critical. Improvement management software supports both the current state measurements and impact measurement into the future. Organizations that forgo a software solution often lose track of how targeted processes perform over the long-term and may over or underestimate the impact of the DMAIC cycle.
Analyze
Once opportunities for improvement are identified and documented a plan for action begins to take shape. This is another point in time where the information stored in the improvement management solution can be a big help. The solution can also be used to capture all of the identified opportunities for improvement, even those that aren't going to be implemented during this DMAIC cycle.


Improve
At this point in the DMAIC continuous improvement cycle, the software platform plays an essential role by allowing leaders to make and track assignments throughout the implementation of the improvement. Alerts and notifications keep everyone on task and engaged. Cross-functional collaboration, often necessary during a DMAIC cycle, is simplified with one standard platform for everyone.


Control
Once the process changes are implemented, it is necessary to monitor them and document the results over time. Improvement software charts the process KPIs over time and alerts the team to any unexpected values. It can also be used to broadcast the impact of improvement and help prepare the team for the next DMAIC cycle.
Whichever continuous improvement cycle you prefer, or even if you like to use both, software will help your team achieve the best possible outcomes.