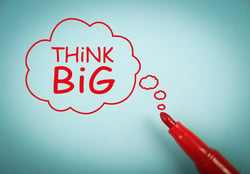 One thing that we are often asked to help leaders and managers do is to articulate the value of continuous improvement in order to get buy-in from the organization and investment from executives.
We find that most people are able to articulate a few obvious goals for improvement work, such as more efficient processes and cost savings. These are valuable objectives, of course, but the potential for continuous improvement is much more far-reaching.
Here are four types of continuous improvement goals that organizations are smart to consider.
Financial
Improvements with financial impact are often the first that come to mind. In fact, we find that one in three of the opportunities for improvement entered into KaiNexus has a financial impact. On average, employees engaged in improvement add about $6,000 each per year to the bottom line. Examples of improvements with financial impact include; better vendor selection processes, elimination of spoilage or waste, new products or services that generate increased revenue, and efficiency gains that eliminate the need to add staff.


Customer Satisfaction
Many improvements that have a financial impact also lead to increased customer satisfaction. For example, reducing defects certainly saves money, but it also makes customers happier. However, increased customer satisfaction is a worthy improvement goal of its own. You may even find ideas that cost money but decide the trade-off is worth it because it leads to customer retention, loyalty, and advocacy.
Improvements that lead to customer contentment might include; expanded support hours, a new or improved online knowledge center, changes to account management practices, or more ways for customers to provide feedback.


Human Resources
The HR benefits of continuous improvement deserve a blog of their own. (So we wrote one.) The impact of the pursuit of positive change on company culture shouldn't be overlooked. HR goals for continuous improvement include; retaining good employees longer, attracting top talent, developing better leadership skills, getting new employees up to speed faster, and encouraging cross-functional collaboration.


Operational
Some improvement work is related to how well the business runs. While these types of improvements may not be as obvious to everyone, they are nonetheless important and worth consideration when it comes to goal setting. Some common operational improvement goals are; become better able to predict business results, improve alignment with company goals and objectives, more effectively manage strategic planning and execution, and faster time to market.
Continuous improvement is a holistic approach to business. It has the potential to impact every functional area and role. Smart organizations set goals that likewise span the organization. When it comes to setting your continuous improvement goals, we encourage you to think big and broad.