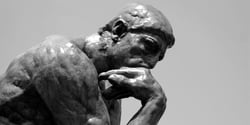 When business leaders talk about business improvement initiatives, conversations can easily drift toward methodologies and tools. While they are certainly important, we think it is useful, once in a while, to step back and consider the beliefs and values that cause organizations to adopt an incremental improvement approach and culture. These are six of the main ideas that drive this continuous improvement mindset.
Improvement is most often the result of small changes, not disruptive revolutions
One of the most powerful messages to employees in organizations that embrace incremental improvement is that you don't have to wait for positive change. Improvement does not require a strategic shift, a new product or a reorganization. It simply requires insight into what little adjustments can be made today to make a process better.
A culture of continuous improvement thrives on incremental changes, not massive strategic shifts.
Employees drive improvement
Executive management is often not in the position to recognize opportunities for incremental improvement, but front line employees are. In organizations that make small, frequent changes for good, employees are trusted to identify potential improvements - and it pays off.
Improvement doesn't have to be expensive
One advantage that incremental improvement has over revolutionary changes is that it can be done without a lot of additional expense. Quite often, in fact, the result of the improvement is actually a reduction in waste using materials on hand, saving the organization money and/or time without costing anything.
Employee engagement is essential
Employees are relied on not only to identify potential improvements, but also to plan, implement and measure them. This requires a team that is emotionally invested in the results and management that supports, rewards and recognizes their efforts.
Feedback and communication must be supported
Incremental improvement cannot be sustained without constant feedback and transparency. This must be supported both culturally and with technology that makes it easy to capture, track and report on improvement activities.
Improvement produces measurable results
Not all change is improvement. Improvement occurs only when an aspect of the business is made measurably better. This might be stated in terms of revenue, cost, time to market, safety, efficiency, quality or customer satisfaction.
The incremental improvement philosophy provides a simple path to positive change. There are no barriers to entry and almost every business can benefit from this simple, yet powerful approach.
Learn more about how to take ideas for incremental improvement and turn them into actual improvements in this free webinar: