Organizations all over the world, in almost every industry, are turning to continuous improvement software to solve their most challenging issues. The most successful of these Lean organizations are aware that they need 5 elements to succeed in creating an improvement culture: bottom-up improvement, top-down improvement, strategy deployment, coaching, and visual management.
That sounds like a lot to excel at all at once, doesn't it?
So how do these Lean organizations pull it off?
With continuous improvement software. In today's post, we're going to take a look at how technology facilitates improvement from the bottom-up, looking at it from both the perspectives of the staff AND of the coaches.
Listen to this Episode and Subscribe to the Podcast:
With improvement software, employees are able to:

Capture Ideas from Anywhere

The first step to getting people to participate in your improvement culture is to make it easy for them. What's the simplest way to do that? By letting them submit ideas for improvement from whatever device they're using when they come up with idea! Continuous improvement software lets people send in ideas using an app, email, or any computer or tablet. Submitting ideas for improvement shouldn't take more than 30 seconds, and you shouldn't need to interrupt your workflow to get it done.



Get Visibility into Improvement Cycle

If people submit opportunities for improvement into your suggestion box and never hear about them again, you can bet that they won't be submitting any more ideas. That's why continuous improvement software gives people visibility into the status of their ideas right from the start. They can see when a manager has reviewed and assigned the idea, and track the progress of the initiative as it is implemented, evaluated, and resolved. Usually, improvements are assigned right back to the person who submitted them (because who else could be more invested in the idea?), getting everyone engaged in making positive changes to their work.



Learn from the Work of Others

You don't want your employees constantly reinventing the wheel, solving the same problems over and over again across the company. And trust me - your employees don't want to waste their time doing this either. Continuous improvement software makes it possible for people to share their good ideas, as well as to search a repository to see if (and how) other people have solved their problems before.



Encourage Engagement with Badging

You can't give everyone who submits an improvement a cookie, but you can use improvement software that includes a badging system. You can configure your recognition program any way you like, including awarding badges for submitting first (or a lot of) improvements, completing training, participating in projects, etc. Sure, it's not a medal, but it's a nice virtual high-five that boosts engagement by providing a little extra motivation.



Direct Access to Managers for Help

One of the great things about continuous improvement software is the way that it connects employees with their managers in a way that isn't overwhelming to either. Managers can check in on improvement as needed, and employees have a direct line when they need help with an idea or removing an obstacle. They don't have to send emails or wait for meetings, which means they can get the help they need sooner and accelerate their rate of improvement.



Gives Permission to Spend Time on Improvement

By investing in improvement software, you're essentially giving employees the thumbs-up to spend some time on improving the work. This is important in a bottom-up improvement culture because you want people to always consider how to improve their process, not just run their way down a to-do list.



Cross-Functional Teams / Breaking Down Silos

Improvement software enables people to build diverse teams from across the organization to work together on solving common problems. You don't have to align schedules for meetings, and since you've implemented a standard for capturing, implementing, and measuring improvement, everyone speaks the same language and has the same process for improvement. Location and shift become less of an issue in collaboration with improvement software, breaking down silos standing in the way of a widespread change.
Engaging people all over the company in daily, continuous improvement is a tall order for a company with a small improvement team. And yet, some of the best Lean organizations don't have a giant staff - or budget - for improvement.
They make it work by maximizing their efficiency with continuous improvement software so that each coach has the maximum impact possible. Here's how:


Visibility into Who is Doing What

When you have people all over the organization engaged in bottom-up improvement, it's impossible to keep up with what's happening where using spreadsheets and bulletin boards. Continuous improvement software gives you access to activity and engagement metrics that show where your help is most needed so that you can target your coaching for maximum impact and efficiency.



Track Training / Certifications

While staff don't need to be improvement experts to participate in daily continuous improvement, they do need some base-level knowledge about what type of ideas to look for and how to implement them effectively. Continuous improvement software makes it simple to track your certification classes and training projects so that you can keep up with a large-scale rollout without all the paperwork.



Identify Bottlenecks

Managers play a big role in a bottom-up improvement culture because they're the ones interacting with staff on a daily basis about their improvement. The role of the coach in this scenario is to offer those managers coaching and skills development as needed. Continuous improvement software helps you identify bottlenecks like managers who aren't delegating, those who aren't keeping up with new improvements as they're submitted, and those who aren't validating the results of completed improvements. This way, you know which managers need your help, and can focus your efforts on helping them improve.



Coach More People = Greater Impact

Coaches that facilitate a culture of improvement that includes both top-down AND bottom-up initiatives are in a unique position to have a significantly higher impact on the organization. Continuous improvement software allows you to touch more people and spread improvement further so that you have the power to drive a greater impact.



Reduced Administrative Burden

Keeping up with the improvement initiatives across the organization can be overwhelming - all the meetings and emails can easily get out of control. Continuous improvement software streamlines communication, standardizes reporting, and increases visibility so that you can focus on your staff and the big picture rather than little administrative details.



Show ROI of Coaching Efforts

There are lots of reasons one would want to validate the ROI of their work, from justifying your position or an improvement budget increase to advocating for more time spent on improvement. Continuous improvement software makes it possible to confidently, objectively show the impact your work has had on the bottom line.



Access to All Boards



I saved the best for last here. Traditionally, improvement is managed on a bunch of boards spread throughout the organization - huddle boards, Kanban boards, idea boards, etc. The problem with this is that as the coach, you have no idea what's up with those boards without actually going in to check on them. Once you're there in front of it, you have to find the right people to follow up with to get the details you need, and it's impossible to tell where work has stagnated and who is dropping the ball.



Continuous improvement software makes your boards digital so that they can still be displayed on the wall of work areas with the formatting your staff are used to, but can also be accessed on your computer so that you can check in from anywhere. You can drill down into the details of any improvement or project on the boards without having to hunt people down with questions, and thus spend your valuable on-site and meeting time discussing the work at a higher level.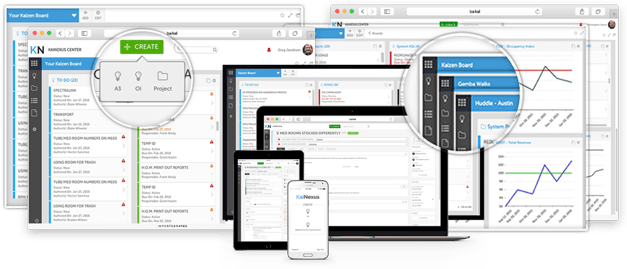 Is your organization using improvement software? How has it made a difference for your staff or improvement coaches? Leave a comment and tell us about it!