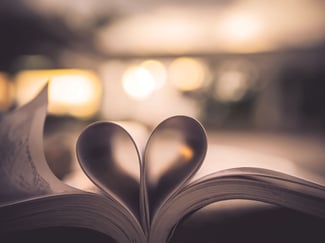 The year 2020 will no doubt claim a chapter in the history books of the future. While it was a very challenging year in many ways, we did find a bright spot in the literature surrounding leadership and management. With some extra time on our hands, we uncovered some excellent resources. In the spirit of Valentine's day, we'd like to spread a little love. We hope you enjoy these new additions to our list of favorite inspirational reads.


By Bruce Daisley
Bruce Daisley has had a fantastic career, including time spent at Google, YouTube, and Twitter. Over the years, he's become passionate about understanding what makes great companies excel. His popular podcast Eat, Sleep, Work, Repeat gets into the DNA of work. In The Joy of Work, he prescribes 30 succinct tips that range across all aspects of modern office life, combining inspirational ideas, tested insights, and straightforward, practical answers.


By Jonathan Trevor
Strategic alignment is a crucial reason that some businesses thrive. In Align, Jonathan Trevor draws upon active research at the University of Oxford's Saïd Business School. He provides practical case studies and evidence-based findings into a thoughtful and compelling message that will help leaders improve their alignment and, thus, enterprise performance.
By Arun Singh and Mike Mister
How to Lead Smart People focuses on core skills such as decision-making and delegation. It also gets into softer skills such as delivering bad news to team members and realizing longer-term aims, such as developing trust and strengthening your team. The authors offer advice on caring for yourself as a team leader, building resilience in challenging situations, developing creativity, and remaining a constant learner.


By Megan Reitz and John Higgins
Speak up is an excellent resource for leaders and employees. It helps the reader navigate power differences and speak up with confidence in a way that gets heard. Speak Up sheds light on the subtle elements that contribute to people holding back valuable ideas and observations. The authors' TRUTH framework identifies essential details to help readers find their voice.


By Stephen Frost and Raafi-Karim Alidina
Without a diverse workforce, organizations are made up of people with similar backgrounds and skills, and therefore the same blind spots. Building an Inclusive Organization is a guide to creating an environment of broad diversity. It covers how to fight unconscious bias and remove it from company processes. It includes fascinating case studies from organizations like KPMG, Salesforce, Harvard University, and Uber.


By Neil Perkin
In Agile Transformation, Neil Perkin argues that traditional organizational structures and cultures are no longer adequate in a digitally empowered world. The pace of change is only accelerating, necessitating new operating models. The book covers how to apply agile principles across the organization and embracing digital-native processes. Perkin shares why change managers must think big but start small.
By David Weinberger
Automated Intelligence, big data, machine learning, and connected computing reveal that the world is vastly more complicated and unpredictable than we've previously been able to imagine. Navigating this new reality where one prediction about the future can result in multiple outcomes, we may not truly understand, is the subject for best-selling author David Weinberger, former co-director of Harvard's Innovation Lab. He explains that the best strategy for the future now requires holding back from anticipating instead of creating as many possibilities as possible.


By Aaron Dignan
In Brave New Work, Aaron Dignan shares exactly how successful organizations invent a smarter, healthier, and more effective way to work. They aren't doing it through top-down mandates but through the growth of autonomy, trust, and transparency. Dignan sees organizations as complex human systems full of potential waiting to be released, not machines to be predicted and controlled.
We hope you enjoy these books as much as we did. One thing we know for sure is that learning is a lifelong process, and we can always gain more insight to help us create an organization that our customers, employees, and community will love.