"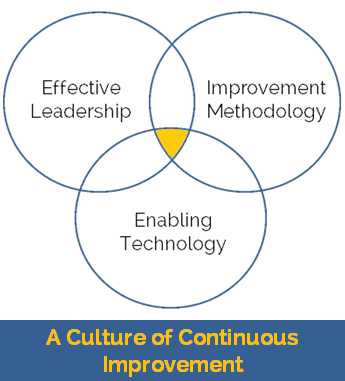 What do I need for a successful culture of continuous improvement?"
Methodology, leadership, and technology.
"Where did I go wrong trying to implement a culture of continuous improvement?"
Methodology, leadership, and technology.
"Why is one cultural transformation successful where others have failed?"
Methodology, leadership, and technology.
Those three elements - leadership, methodology, and technology - are the answer to most of the questions we at KaiNexus get about continuous improvement. One way or another, everything ties back to one (or all three) of those factors. An organization needs effective leadership for a culture of continuous improvement, but those leaders will fail without an improvement methodology and enabling technology. Likewise, a good methodology without leadership will fail to take off, and technology is never a silver bullet. A culture of continuous improvement is carefully balanced on these three critical pieces like a tripod stool. Without one of them, it'll fall right over
How do we know that?
Experience.
When a new customer joins our family, we spend a lot of time getting to know them and their history with continuous improvement. Largely, that's out of necessity - they purchased KaiNexus because they had a problem that needed to be solved, and to help them, we must understand that problem. Over and over again, we find that the problem either lies in - you guessed it - a lack of effective leadership, an improvement methodology, or enabling technology.
Take for example our customer Qorvo. We've written about them a lot lately, as a result of a powerful interview that our Mark Graban did with Alice Quesenberry, the Director of Etch Engineering at Qorvo.
Finding A Methodology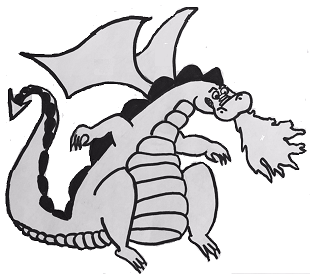 Qorvo first got interested in Lean in 1995, when the CEO brought in a consultant who taught continuous process improvement (CPI) as a way to make the organization better. At that point, week-long training sessions became a regular part of the company culture. The problem was, all improvement was done in big "dragon slayer" projects (I LOVE that term don't you?). People would then get together and present their projects once a quarter. Each employee would try to do a couple of projects a year, and they required the participation of senior-level leaders.
With the influence of Intel (one of Qorvo's customers), the company got interested in a formal Lean approach in 2008. A Qorvo Senior VP sent a couple directors (including Quesenberry) to learn more about the methodology from Jamie Flinchbaugh and prepare to implement it in their departments. When the directors came back a week later, they were inspired. They started working on Lean right away, kicking it off with some lean training and a couple of Kaizen events.
The Importance of Leadership
At a certain point, it became more work than they could handle, so Alice asked their VP at the time, "Hey, do you think we could get a program manager to help us out here? We really want to keep this going, but we need more help."
He said, "No, you've got to figure out how to do that while you're doing your current job." As Quesenberry said in our interview with her,
"It just kind of fizzled from there. We felt like we had the drive, and the passion, but we had it from a grassroots type level; we didn't have the support from above. If we didn't have that from above - if he didn't think it was important - we weren't going to be able to drive it."
At that point, the Lean initiative slowed to a halt. Leaders would go get Lean training, get inspired, and then come back and say "OK, now what do I do? Where do I insert my passion and my interest?" We didn't really have a mission or vision for what this would look like, though, and their books would start to gather dust. Eventually they would just go back to their regular work.
But then, almost two years ago, Qorvo had this new VP come in, Gadi Dvir. He said, "We can do this. In my factory, we're going to make this work." That's how he introduced Lean again - but he made it his own. Lean under Dvir is based on the rules and principles from "Decoding the DNA of the Toyota Production System" by Steven Spear, and emphasizes four capabilities from the book The High-Velocity Edge: activities, connections, flows, and experimentation. That high velocity part of it plays a really big part in Lean at Qorvo. It's high velocity not only in terms of identifying problems, but also in the speed of improvement. It lights a fire, a little bit more than standard Lean rules and principles.
When Qorvo found the right leader - one who was willing to support the organization in a Lean transformation, providing the necessary education, resources, and expertise - their improvement methodology was able to transform from purely "dragon-slaying" projects to daily, continuous, high-velocity improvements.
The Need For Enabling Technology
At first, Qorvo resisted the idea that technology was necessary to support their cultural transformation. They considered workarounds like storing photographs of A3s in a shared drive, but ultimately found that sharing information (a critical part of sustained improvements) was too difficult without enabling technology.
So they started using the KaiNexus continuous improvement platform as a way to track all of the improvement ideas that were flowing in from employees on the front line. The desire to empower everyone from operators and technicians to engineers and managers to implement improvements in their daily work is a big driver of the Lean culture at Qorvo. KaiNexus gives them a centralized location, accessible to everyone, anytime, anywhere, in which to store their improvement work. As Quesenberry says,
"KaiNexus makes it possible for us to share everyone's improvement ideas with everyone else, and provides a searchable database of the ideas so that we can find them again later."
See how all of these pieces fit together? They started with the methodology, but lacked the leadership they needed to drive it forward. Then they found the leadership, and the methodology evolved into something that worked well for their culture (high-velocity continuous process improvement, or HVCPI). Once they added the enabling technology, they completed the trifecta of pieces needed to propel their culture of continuous improvement forward.
How's that working out for them?
Well, in 2014 they achieved over $7 million of financial impact through their HVCPI, along with hundreds of quality, safety, and satisfaction improvements. More on their process and impact here.