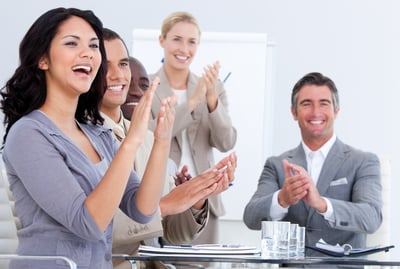 Transforming corporate culture is not a small undertaking. There are usually both tangible and intangible costs. When done effectively, the long-term advantages far outweigh the costs of living with a culture that isn't thriving, but how do you measure the impact of such a change? After all, much of what constitutes corporate culture is intangible.
For that reason, the goal isn't really to measure the culture but rather to measure the outcomes that are impacted by the culture. This is much more practicable and useful because these results directly affect the value of the organization. Of course, the exact metrics you measure will depend on the goal of your culture change effort. However, with the right tools in place and thoughtful planning, you'll be able to demonstrate the real-world benefits your culture initiative achieves.


What is Company Culture?
Before we dig into the multiple ways you might consider measuring organizational culture change, it is helpful to consider what organizational culture is. The definition of company culture has been discussed and debated over the years. Perhaps the simplest way of describing it comes from Deal & Kenedy. "It's the way things are done around here."
Another way to describe it is the personality of an organization, as seen through the employee experience. It includes the set of usually unspoken rules about how things get done. Ultimately, corporate culture is the underlying beliefs, assumptions, and values that form an organization's unique social and psychological environment. Culture determines how employees, potential employees, customers, and the general public view your organization and what makes it different from every other.
With that understanding, how can cultural transformation be measured?


Employee Engagement
If your culture transformation efforts have been successful, you can expect to see increased employee engagement and empowerment. Conversely, if your employees are less engaged than they were at the outset of your initiative, something has gone wrong. You can measure employee engagement by using data to answer the following critical questions.
Do employees choose to participate in projects or events when their participation is not required?

Are deadlines generally met and expectations exceeded?

How many employees contribute ideas for improvement, and how often do they do so?

Are staff members willing to take ownership of projects or problems? Are more people exhibiting leadership qualities?

Is engagement consistent across business units?

Is internal communication effective and consistent?
If you have improvement software in place, answering these questions with the available data is straightforward. Without it, you may need to use an engagement survey or other ways of gaining this valuable insight.


Customer Value
If you want to understand the impact of your cultural transformation, your customers can be an enormously helpful resource. It is a good idea to capture customer sentiment, perhaps with a survey, before your culture change begins so that you have a baseline from which to measure improvement. In addition to asking the costumes directly, you can also look for other telltale metrics such as loyalty statistics, repeat business, order value, and referrals. What you want to know is:
Has the customer view of our performance improved since we started the change?

Will our customers recommend us to a friend or colleague?

Are we getting more repeat business since we implemented these changes?

Has revenue improved?


Pulse Surveys
Pulse checks or surveys are another way to measure employee engagement. A Pulse check is a short and targeted survey to capture employee feelings about work and the workplace. They usually include just 1-5 questions and take less than five minutes to complete. Unlike a full employee engagement survey done only once a quarter or so, pulse checks can be done as frequently as every week. Questions can be as simple as, "How happy are you this week?"
Pulse checks get higher participation rates for such surveys because they are short, quick, and specific. Compiling this data allows you to create a control chart that tracks sentiment over time and will enable leaders to take immediate action if there is cause for concern.
Pulse surveys are also helpful for building trust. They signal to the organization that leadership is concerned about how employees are feeling.


Business Outcomes
Almost all organizations track multiple metrics associated with overall results. Take a look at what you measure and determine which metrics you would expect to change as the culture changes and track these trends over time. It is also helpful to statistically connect culture survey data to specific outcomes so you can determine which aspects of your culture are most likely to have a measurable business performance impact. Avoid the temptation to focus on the lowest-performing elements of your employee survey. Instead, try to identify which aspects of culture are more likely to impact performance and come at the issue strategically.


Story Telling
While most of this post has been about using qualitative measurements to gauge the impact of culture change, sometimes data alone isn't enough. Adding the element of storytelling to your analysis is valuable for assessing cultural transformation. Listing to employee stories, especially those about changing beliefs and shifts in behavior, can give you priceless insight into what is changing and what factors contribute to the change.
What you are looking for is beliefs in action. These stories connect us to the underlying reality of culture, and they are essential for creating change. Just like countries, tribes, villages, and other communities use stories, imagery, and even myths to communicate reasons for past change; business leaders can use stories in the same way.


Leadership Excellence
Leadership competence is an essential element of organizational change, and it should be measured alongside the other aspects of culture. Generally, when leadership is strong, the proof is in the business results. Surveys that measure employees' satisfaction with their manager can be useful, but there are additional ways to measure leadership success and growth.
Is employee retention improving?

Do leaders use Leader Standard Work?

Are employee suggestions for improvement addressed promptly?

Do leaders broadcast success and recognize employee achievement?


By applying these methods and others for measuring a culture shift, you can hone in on what's working and what needs more attention. Of course, cultural transformation isn't easy. In fact, it may be one of the most difficult challenges for leaders to undertake, but the benefits are so extensive that it is well worth the investment.