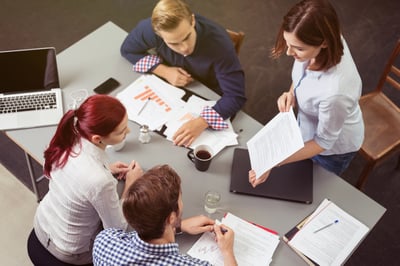 Standard work is the documented and current best way to do a particular task, procedure or process. Workers develop the standard and follow it until an improvement process results in a new standard. Standard work ensures that results are consistent and forms the foundation upon which improvements are made. Leader standard work applies this same concept to the task of driving Lean thinking and behavior throughout the organization.
Many organizations have little in the way of documented best practices for leaders. Supervisors, managers, and directors are left with only their job description to guide their daily activities. Given this reality, it's not surprising that many fail to start, spread, and sustain the continuous improvement mindset.
The alternative is leader standard work which is a set of actions, tools, and behaviors that are incorporated into the daily activities of leaders at all levels. Like the standard work for any process, leader standard work must be documented, practiced consistently, and changed only with reflection and experimentation.
Although the specifics of leader standard work vary across organizations, some practices are universally useful and commonly included.
Strategy Deployment
Strategy deployment, also known as Hoshin Kanri, is the practice of identifying the organization's long-term breakthrough objectives and aligning the goals and decisions of every person in the organization. Strategy deployment is not an annual event. Success requires that it become operationalized at every level.
Incorporating strategy deployment into leader standard work means setting a schedule for reviewing progress toward the objectives and managing KPIs on a daily basis. At any point, a leader should be able to say where their team is on the path toward its stated monthly, quarterly, and annual objectives.

Gemba Walks
Gemba walks are the practice of leaders going to the place where work is done (the Gemba) to observe, ask questions, and show respect. Gemba walks should be done with purpose and focus on understanding and improving processes, not evaluating employee performance. After a walk is complete and the leader has the chance to reflect, action is taken regarding any opportunities for improvement that were discovered.
Leader standard work defines the number of Gemba walks each leader will take on a daily, monthly, or quarterly basis, depending on the level of the organization. For example, the direct supervisor of a manufacturing process might visit the factory floor several times a day, while her supervisor visits the Gemba once a week. There is a tendency for Gemba walks to become just an item to check off the list, so it is vital that the leader standard work also include documenting the purpose for the walk as well as the results.



Huddle Meetings and Boards
Huddle meetings give employees the opportunity to identify challenges and work on problem-solving skills. They should be part of leader standard work because they give managers and supervisors early insight into potential problems and the opportunity to coach the team on how to implement positive change.


Individual Mentoring
It is common for leaders to be so involved in managing people and process that they don't take the time to actually lead. That's why leader standard work should include accountability for individual coaching and mentoring. One on one time with employees, outside of the typical performance review process, allows leaders to spread the continuous improvement mindset by asking directly what employees have learned each week and what support they need. Not only does individual mentoring show respect, but it also makes employees feel safer bringing up issues and opportunities for improvement.
The benefits of leader standard work are shared by leaders and workers alike. Leaders get closer to the processes and people that they oversee. They are able to respond more rapidly to potential problems, and they can effectively track progress toward critical goals. Employees know what to expect and see problem-solving as a collaborative endeavor. Lean thinking becomes more than a slogan when workers see it practiced every day.
Like the standard work for any process, leader standard work forms the jumping off point for managers and supervisors to reflect on their own outcomes and look for ways to make adjustments that will yield even better results.