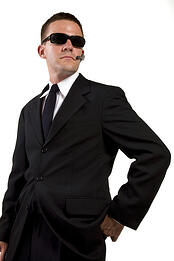 Wow. What else can you say when talking about what's been revealed lately about what was one of America's most trusted intuitions. Just wow. The humiliating headlines include; an armed intruder in the East room of the White House, a security contractor with a gun in an elevator with the president, taking four days to discover that the White House had been shot seven times, the president on stage next to a man who was definitely not a sign language interpreter, and letting the world's most annoying reality TV couple waltz into a state dinner uninvited. This isn't one or two poorly executed events or a couple of bad agents, it's a broken culture.
At KaiNexus, we understand how company culture can impact results. We also realize that developing a culture of improvement, accountability, and collaboration takes intention and requires solutions that support the effort. We don't have any special insight into what is going wrong at the Secret Service, but the results show all the tell tail signs of culture neglect.
It Starts at the Top
Secret Service Director, Julia Pierson, resigned recently. Although she was not directly responsible for any of the lapses, Republicans and Democrats agreed that she was responsible for allowing an environment where these seemingly unthinkable events occurred. In any organization, it is the responsibility of top leadership to establish, support and enforce its values and standards. Clearly defined processe and change management control are essential to operational excellence. It appears that Ms. Pierson was effective at neither.
Employee Trust and Empowerment are Crucial
We've learned about some of these incidents from Secret Service agents who want things to improve, but think informing the press will be a more effective way to bring about change than informing their supervisors. This indicates a breach of both trust and, on a more positive note, it's a sign of empowerment.
Employees who are invited to suggest opportunities for improvement and see an organization dedicated to positive change are far less likely to shrug off imperfections and they're more likely to affect change instead of going to the press. Implementing a solution for identifying opportunities for improvement signals management's commitment to acting on employee ideas and recognizing them for contributing to the success of the organization. It's a fair guess that the Secret Service doesn't have one.
Every Organization Needs an Institutional Body of Knowledge
Coordinating operations is a challenge for every large, complex, or geographically dispersed organization. Information silos and lack of transparency result in highly inefficient management and poor quality. Most organizations suffer to some extent from short-term institutional memory, in which best practices, processes, and improvements are lost over time or disappear when key staff leave.
A series of retirements of senior agents and staff has been one reason given for the mess at the Secret Service. Without a method of capturing and sharing past solutions to problems, employees are forced to constantly reinvent the wheel to solve problems and make improvements that have been addressed in the past and subsequently forgotten. Every day becomes Groundhog Day and the ball is never advanced.
The next Director of the Secret Service has a big mountain to climb. There will no doubt, be many changes in the agency as it attempts to fulfill its mission and regain public trust. We'll know they're serious about improvement if they implement a solution to support it and fully embrace the cultural changes necessary to create an environment that is ready for positive change.