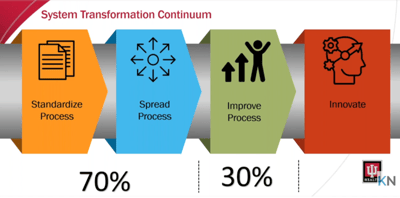 We have been very fortunate to have an impressive lineup of guest presenters for our webinar series on continuous improvement. Roger Chen from Indiana University Health did not disappoint when he joined us to discuss how to navigate the transformation continuum. Roger has over 30 years of experience in various improvement and leadership roles. He spent time at General Electric where he reached the level of a Six Sigma master black belt. As GE embraced Lean, Roger became a senior Lean value stream manager. Subsequently, he has lead transformation and improvement roles at Martin Memorial Health System, Lee Health, and now Indiana University Health (IU Health).


Presented by Roger Chen

In this webinar, Roger Chen, Executive Director of Lean Transformation at IU Health, shares "lessons from the field" based on his experiences in healthcare (and previously in industry).
You will learn how to identify the phases of the Transformation Continuum and adaptation of rapid improvement and project management methods to standardize efficiency and spread effectiveness -- applicable for any setting!
IU Health's Approach to Transformation
Roger shared IU Health's current thinking on navigating the transformation continuum, or what they are calling "Transformation 2.0." The system transformation office at IU Health is working on three programs that they consider the engine for transformation. The first is to be a quality resource center for anyone doing quality and process improvement work. They will be available to answer technical questions, process improvement questions, or to connect people to the right resources in quality or business analytics.
The second program is on system initiative deployment, or what's often called strategy deployment or Hoshin Kanri. The third program is a training institute to ensure that the internal process improvement teams are trained to a consistent technical and change management standard, as well as to partner with the leadership academy on training programs.
The purpose of the transformation office at IU Health is to accelerate the achievement of IU Health systems priorities through the application of Lean principles and methods.


The System Transformation Continuum
Many organizations begin their Lean journey by learning how to do value stream maps and rapid improvement events. Roger thinks that most improvement professionals have all seen the classic PowerPoint slide that shows that it is important to standardize and then improve, then standardize and improve again. Yet for some reason, people tend to launch right into improvement without understanding the necessary preconditions for improvement to occur, be sustainable, and spread.
Roger finds it useful to walk back down the path and shift focus to understanding what the environment is for standardizing processes and spreading process improvements. The improvement work is addressed by the elements of Lean as daily management. Roger has found that this foundation work is required before an organization can become successful at innovation.


System Initiative Deployment
What system initiative deployment means to IU Health is aligning strategic system projects so that best practices spread when they are uncovered. This is the point at which they engage users in interdisciplinary teams with applicable Lean content. As this work matures, the way information is shared is very important. Technology like KaiNexus can become a knowledge repository and help socialize learning.
IU Health leverages the classic Plan, Do, Check, Act improvement cycle, but they break down the planning step into several phases. The first phase is "Plan the scope," and the second is, "Plan the scale." The third is the classic plan, or the design of the countermeasures. They now have the 3Ps, Do, Check, Act.


The Scope and Scale Perspective
What scope is intended to mean is the project resource mix that the organization is willing to commit for the problem that is to be solved or the goal that the project is trying to achieve. At this point, IU leverages tools like the stakeholder analysis, the Gantt chart with clearly defined milestones reviews, and also other required support functions like IT, HR, and legal. There is also an assessment of the cultural acceptance of the type of change being considered. Roger believes all this is very important to prepare for the eventual change management, training, and communication processes once the project management part of the work is complete. The project resource mix is informed by the expectation of how the project will ultimately scale at the end of the work.
A key consideration is connecting everything back to value stream mapping and rapid improvement work. Roger explains that a rapid improvement workshop is simply a very complex project, on a highly compressed timeline. Because the timeline is compressed, it is dangerous to skip the elements of proper project management. It places a premium on the team to understand them and ensure that each step is being done proactively because a rapid improvement event minimizes the ability to recover from project slip. In a complex environment like healthcare, which has so many dependencies and longer cycles for tests of change given clinical and license requirements, sometimes it is better to conduct several improvement sprints with scheduled cycles and reporting periods rather than the highly intense one-week workshops that many organizations use.


Programs and Project Work Breakdown Structure
Rodger shared how IU Health breaks projects into a manageable structure. Level 1 includes enterprise-level value streams or processes. Levels 2-3 are the supporting processes for the primary process. Inside the processes are identified projects for short-term to mid-term goals as well as the associated key performance indicators that are tied to the program or the projects.


Enterprise Program Management Definitions
At the highest level, IU Health's strategic plan defines the portfolio. Underneath that strategic plan are the strategic priorities that the executives set for the year. Projects are associated with these priorities. Projects always have a start date, an end date, and an owner.
Each area has its annual objectives. Within the programs, there are groupings of projects. For example, in healthcare, moving to electronic medical records is a massive program, which would spin off projects in multiple areas. Projects and project families are associated with each program. Once project families are defined, they may lend themselves to value stream mapping. Value stream maps will typically have some type of sponsor and a steering team, along with the team that does the value stream work and rapid improvement event.


The PDCA Approach to System Program Management
Roger explained that the first thing to keep in mind is that every program or project has phases, so it's up to the team to agree on the amount of time for each phase and what the milestone review points are as well as the Go/No Go decision points. The communication and training plan for all tiers of the organization needs to be considered. There has to be clear and understood metrics. The team also has to realize that part of project management knowing when to pull the andon cord. That is necessary when progress stalls, risk factors change, or support factors change. If necessary, the project can be deselected so that resources can be redeployed.
We are very grateful to Roger for taking the time to share IU Health's approach to the transformation continuum. If you missed it, you can watch the webinar here. Recordings of other presentations about how organizations approach improvement are also available.