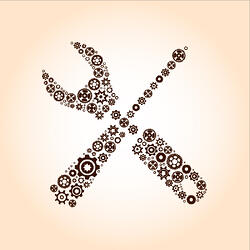 Most business leaders recognize that their organization could benefit from more innovative products and processes. However, the practical path to new and novel ideas isn't always as clear. How does one begin the process of forming a culture that values creative thought and seeks opportunities for improvement? Here are a few innovation tools that help to get the dust off of organizations that have become stuck in old thinking.
1 – Value Stream Maps
A value stream map is a technique used to document, analyze and improve the flow of information or materials required to produce a product or service for a customer. Value stream mapping is frequently associated with manufacturing, but can be of use for any process where information and materials flow across the organization, building value as they go. Value stream maps support innovation by defining the "current state," then inviting suggestions for improvements that reduce waste, speeding time to market, or otherwise preserving or contributing to customer value.
2 – Gemba Walks
Like value stream maps, Gemba walks are often thought of in the context of manufacturing, but are an effective innovation tool for many industries. In Japanese, Gemba means, "The real place" or "The place where the work is done." Gemba walks are the simple act of company leaders, managers and supervisors physically going to the places where processes in the value stream are performed. Leaders often start at the end of the value stream and walk "upstream" through each process, or they make a more targeted visit to one area. This affords the opportunity to observe process flow blockers or detours first-hand. Inefficiencies can be corrected and best practices applied.
3 – Kaizen Events
The idea of Kaizen also comes to us from Japan. The word means, "Good change." It is closely associated with organizations that have adopted a culture of continuous improvement. While Kaizen thinking is a way of life for these organizations, in some cases Kaizen events or "Kaizen Blitzes" are used to tackle specific, pressing, relatively complex problems. In these situations, a team of people with a specific time frame works to apply significant energy and effort to a product or process that is in urgent need of improvement or innovation.
4 - Innovation Management Software
Like many other aspects of modern business, innovation can be supported by technology. Tools that help gather employee ideas, manage the process of implementing opportunities for improvement, and create transparency around organizational progress can help instill and maintain an innovative spirit for employees at all levels of the organization. The best solutions support employee recognition and engagement, as well as financial analysis of positive change.
Issuing an edict of, "Become more innovative," is rarely effective. However, these tools give leaders easy-to-implement and cost-effective avenues to start the charge toward a more forward-thinking, efficient, and operationally excellent organization. Each offers a low-risk, high-reward opportunity to accelerate business momentum.