One of my favorite parts of KaiNexus is the charts feature. Charts let you record all the important data you need to track current states, the effect of your improvements, or anything else you can imagine.
We have customers who have more than 700 charts currently in KaiNexus, and they're adding more every day. That's a LOT of data spread throughout hundreds (and sometimes thousands) of Improvements, so wouldn't it be great if you could peruse all that information in one place?
Well, thanks to the new charts section, you can!

From the charts section (accessible from the left navigation bar), you can open any chart in the system (except for private ones for which you do not have permission to access) and see any comments, files, links, locations, or people associated with it.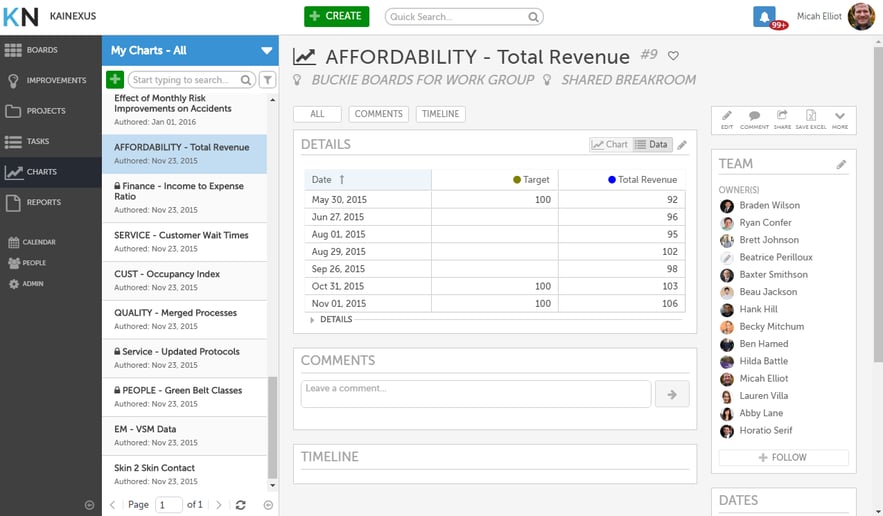 ---
What charts can I access from the charts section?
You can access any public chart or any private chart for which you're on the team. Private charts are those which were originally created as part of a private Improvement or Project or those which have since been edited to be made private. Only people on a private chart's team can access it in the charts section (or add it to a Board, Project, or Improvement).
All other charts can be found in the charts section by using the quick filter, advanced filter, or charts search bar.
Wait...what's this about a chart's team?
This is another new feature! Every chart now has a team associated with it, comprised of Owners (who can edit its data and team and add files and links) and Followers (who just want to stay in the loop without having any control over the chart).
Owners aren't the only people who can edit chart's, though! We've also introduced a brand new permission - the Chart Administrator. Chart Administrators can edit any chart in the system, regardless of whether they're on its team.
For information on creating a new Role containing this permission, check out this support page.
What else has been added to charts?
Lots of things! Charts can now convey nearly as much information as an Improvement.
Timelines: Every chart now has a timeline that tells you about every time it was updated (and by who).





Files: If your chart pulls from a spreadsheet of raw data or some other document, you can now add that file to the chart itself (rather than every Project or Improvement to which the chart has been added).





Links: Likewise if your chart is tied to information on a certain website or to a file on a shared drive, you can add that link to the chart itself.





Comments: Now, anything you need to say about a chart can be added to the chart itself via a comment. This will keep all your important information in one place and maintain a record of any conversations you have about your data.
---
We've always said that charts are a great way to improve visibility for your team since they get your data out in the open where everyone can see it. The new charts section keeps all of your data in one place, so your entire team knows where to find it!
Leave a comment and tell us how you plan to use the new charts features, and be sure to subscribe to the blog to make sure you don't miss future posts!