Growing up, making the Honor Roll was an amazing achievement. It was your school's way of recognizing you for all your hard work. By gaining this positive recognition, it motivated you to work hard the next semester to make the Honor Roll again.
As professionals in the workplace, receiving recognition for your hard work is still extremely valuable. But without an 'Honor Roll' list to make, as we had in school, consistent recognition from leaders on your performance can be hard to come by.
Employee recognition is extremely vital to the success of an organization and the happiness of its employees. In a study published in the book by Dr. Donald Clifton, 'How Full is Your Bucket,' the top reason people leave their job is because they don't feel appreciated. Therefore, it's important to feel like your work is valuable and impacts the company's success.
Employee recognition is a crucial practice that adds significant value to an organization. It builds loyalty, increases motivation, productivity, and morale, and helps build positive relationships.
Why does the Honor Roll just have to be for school? It shouldn't… so we created the Honor Roll System in KaiNexus, as a way to recognize outstanding improvements by employees.
KaiNexus' Honor Roll System is a tagging mechanism for outstanding ideas that an organization wants to recognize. Anything granted Honor Roll status can be identified by a yellow star next to its title. Typically, leaders utilize the Honor Roll system to identify outstanding Improvements, flag them for future reference, and to recognize staff for their exemplary contribution. It is thought that approximately 5-10% of Improvements will be given an Honor Roll status.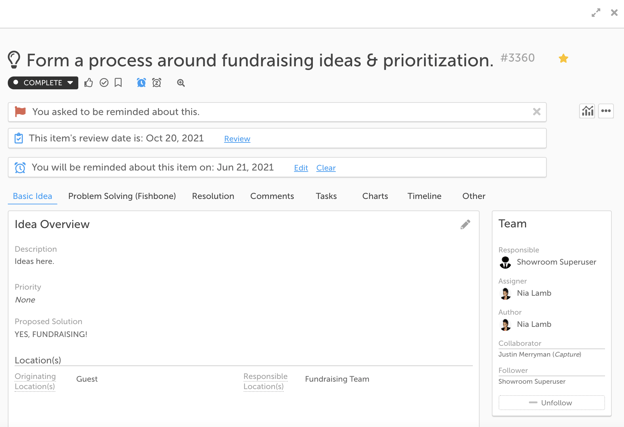 One of our customers, UMass Memorial Health, utilizes the Honor Roll system to recognize and encourage their team's improvement work.
UMass Memorial Health launched Innovation Station, powered by KaiNexus, to bring all caregivers on a single, systemwide online idea system platform to facilitate the virtual sharing and implementation of ideas. The Honor Roll was added as a way to give caregivers a chance to nominate ideas and shine a light on the brightest ones through Innovation Station. I spoke with Rob Pitney, Process Improvement Engagement Specialist at UMass Memorial, and he shared why it's important to recognize specific improvements company-wide:
"We want to encourage a culture of innovation. It's important that everyone has a voice and knows their opinions matter. They have the ability to improve their daily work by submitting improvements. Using Honor Roll helps us highlight improvements and inspire others to participate in improvement work. We know that recognition goes a long way in motivating employees, and the Honor Roll System helps us do that."
Reach out to your Customer Success Manager if you have any questions or would like to learn more about Honor Roll.