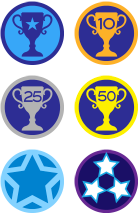 When companies adopt a platform for managing their continuous improvement efforts, they look for solutions that offer workflow management, notifications and alerts, ROI reporting, and mobile device support, among other things. These are all essential elements of a great business management solution, but there's another one that is often overlooked - built-in employee recognition.
Why Employee Recognition Matters
When people see that their ideas for improvement are welcomed, applauded, and implemented, they will continue to look for more opportunities to improve and will be more willing to share them.
Executive engagement in recognition sends a powerful signal to the entire organization that improvement is important and worth time and attention of staff at every level. This serves to strengthen the resolve of mid-level managers and others who are in the position to influence the organization's improvement efforts.
Why Recognition Should be Built-in
Employee recognition should not be an afterthought. Separating recognition from the continuous improvement initiative creates the opportunity for it to slip off the radar.
Choosing a solution that manages recognition, impact reporting, and engagement analysis all in one platform makes identifying the people who deserve special congratulations easy and hassle-free.
Broadcasting improvement success is as important as recognizing individual contributors. When the team understands how improvement is impacting the business and who is driving it, they are better positioned to support it.
How KaiNexus Supports Recognition
The KaiNexus solution helps leaders identify praiseworthy efforts by tracking the number of opportunities submitted, worked on, and assigned by by each person, the description and current status of those opportunities, the results of each opportunity, and the cumulative impact the individual has had on the organization.
The solution also offers improvement broadcasting complete with impact analysis, giving employees the public recognition they deserve.
Success is reinforced with a badge system that lets users proudly display their accomplishments.
Continuous improvement is a team sport. Recognizing the outstanding efforts of each player is an essential element in successful and long-lasting transformation.
To find out what you should be doing to create a sustainable culture of continuous improvement, check out our free upcoming webinar!
Upcoming webinar:
January 27 at 1p EDT
In this webinar, you'll learn:
What you should be doing to create a culture of continuous improvement
How to encourage the identification, testing, evaluation, and sharing of improvements
Best practices for collaborating on improvement
When to get involved… and when to get out of the way
How to make sure your voice is heard