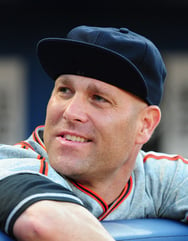 It's kind of rare when one situation makes an organization's culture of employee engagement glaringly apparent, but I came across one the other day and wanted to share it with you.
Just before the MLB trade deadline last week, the San Francisco Giants obtained starting pitcher Mike Leake from the Cincinnati Reds for two Minor Leaguers, right-hander Keury Mella and infielder Adam Duvall.
This might not sound like blockbuster news, but it was for one guy, Giant's pitcher, Tim Hudson. The 40 year old player who leads all active players with 220 wins, in what is almost certainly the last year of his career, has been placed on the disabled list to make room for Leake.
Here's what he had to say about it, "I'm on board with whatever helps the club get better and gives us a better chance of winning a world championship. If it means me changing my role, I'm all for it. I think everyone in this locker room is on the same page, and that's winning a World Series. You put your egos aside."
I think every executive on the planet would be delighted to have employees with that kind of attitude. Of course, this says a lot about Hudson himself, but that kind of engagement doesn't happen without a strong culture.
The trade itself is an example of the Giant's approach to incremental improvement. They didn't go out and hire a big name starter or retool the entire club. They're already a great team (with three World Series rings in the last five years to prove it), but they think they've found a way to get just a bit better at this one position. They've been doing that for years.
Hudson's comments also reveal the underlying sense of purpose. "I wish I was pitching good enough to where they didn't have to make a move. That hasn't been the case," he said. "It's been a grind. For us to win a championship, I felt we needed to bring somebody in." There is no doubt that Tim Hudson is emotionally invested in that championship.
Hudson was offered the opportunity to be traded to a team where he would keep his place in the starting rotation. To that he said, "We've got a chance to do something special here. You'd be foolish to not want to be on this team."
When you have employees who say something like that, you win.
Check out this free eBook to find out how improve employee engagement in your own company's culture of continuous improvement.