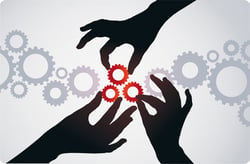 Hoshin Kanri (also called Strategy Deployment) is a method for ensuring that the strategic goals of a company drive progress and action at every level within that company. It drives and aligns both long-term breakthrough goals and day-to-day activities.
If you are new to the approach, you can learn more about it here, here and here. Today we'd like to share a few tips and best practices for making sure that your organization gets the most out of Hoshin Kanri planning.
Use the process to clarify what you will prioritize and what you will not
If everything is a priority, then nothing is a priority.
It is important during the Hoshin Kanri planning process to discuss what you are willing to give up in order to meet your key objectives. What tradeoffs are you willing to make to achieve your most important goals? Hoshin Kanri is about identifying "true north" for the organization. Getting there requires narrow focus.


Engage in open communication
While it is the responsibility of leadership to set the organization's strategic objectives, employees who are engaged and involved in the planning process will be more willing and able to contribute effectively to the results. Engaging people at every level is key to attaining a true improvement culture in which everyone is pulling toward your true north.


Align improvement work
All improvement work should relate to your strategic goals, if not directly, then at least somewhere down the line. For example, if one of your strategic goals is to improve the quality of your product, an improvement making a complicated task easier will result in decreased errors and a better product. This requires that everyone understand the plan, of course, and that each project is evaluated in light of its alignment with the strategy.


Keep it front and center
When you are talking about objectives that are 3 to 5 years out, it can be difficult to maintain focus and keep people engaged. Too often a great deal of effort is put into the Hoshin Kanri planning process up front, but it is quickly forgotten. It is important to make working toward your Hoshin objectives a part of daily work and to talk about them often.


Measure and share progress
While we talk about "breakthrough" objectives, we don't mean that you will have one improvement project that solves all challenges and achieves all goals. Rather, there will be a steady series of small improvements that eventually lead to the moment where the scale tips in favor of your goals for growth, profitability, and success. While on your path to true north, it is important to check the "map" frequently and let everyone know how far you've come.


Hold everyone accountable for the success of the plan
Make sure that individual objectives and rewards are tied to the success of your strategic plan. Give public recognition to those who are contributing to positive results. Offer coaching and training to those who are not.
The Hoshin Kanri planning process is important, but it is the plan's execution that really matters. Organizations that go "all-in" are the most likely to see their biggest dreams come to fruition.