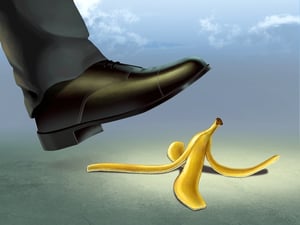 I got a call from a good friend recently. She's the CEO of a mid-sized technology company in Idaho. She's almost always upbeat and full of energy, but on this day, she was obviously down. When I asked what was wrong she told me a sad tale indeed. Earlier in the day, at one of her company's regular monthly meetings, she decided to offer a $100 bill to the first employee who could name all four of the company's top-level strategic goals. What she got was crickets. Not a single person could name them all and few could come up with any of them at all. Ouch.
My friend is good at her job. The company is successful and her employees respect and trust her. "How could this have happened?" she asked. I won't get into the specifics of her situation, but this problem happens more frequently than you might expect. Leaders craft a strategy and announce it, but it just doesn't permeate the organization. Here are some of the most common reasons that strategy deployment fails.
Listen to this post or subscribe to the podcast!
Employees Aren't Involved in Developing the Strategy
There are many benefits to involving employees in strategy development. Making the objectives memorable is certainly one of them. Employee involvement can also lead to more relevant goals that address front-line issues. People are also more likely to emotionally connect with the outcome if they are involved in crafting the strategy.


Lack of Context
Lots of companies have goals related to revenue growth, market share, profitability, and other financial metrics. That's not necessarily bad, but goals of that sort can feel hollow to employees if they aren't presented in a meaningful way. How will revenue growth impact the future of the company and its employees? Will it mean entering new markets? Hiring more people? Better benefits?


Goals Are Not Aligned
If you want people to keep the organization's goals top of mind, it makes sense to tie the goals that will be used to measure individual employee performance to the company's top objectives. This helps people understand what role they have to play in the bigger picture and creates an environment that is more collaborative than competitive.


There's No Structure for Strategy
It is kind of ironic, but companies use software solutions to manage almost everything that is important in an organization except for what is arguably the most important thing – strategy. Modern leaders would never dream of doing their financials on a ledger pad or tracking customer contact information in a Rolodex, but the strategic goals of the company are often deployed using Word documents and email. The alternative is strategy deployment software that brings the objectives to life by tracking related projects, providing active alerts and notifications, and giving everyone a dashboard to monitor progress. This approach makes the strategy an integrated part of everyday improvement efforts.
Now that she's had that experience, I'm willing to bet a hundred bucks of my own that my friend will find a more effective approach to strategy deployment. Do you think your team would come through under similar circumstances? If you aren't sure, ask yourself if you might be making one or more of these common errors.